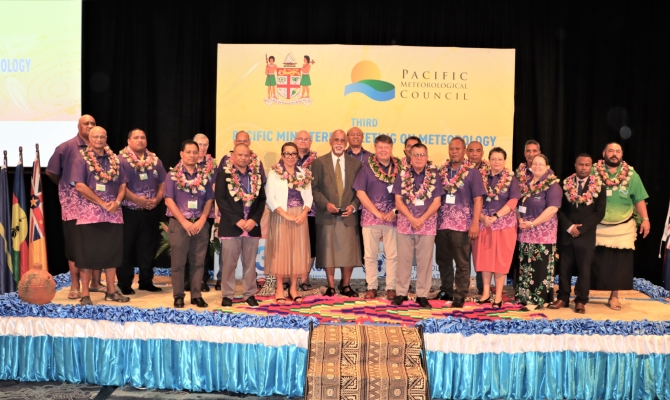 Pacific Ministers attending the third Ministerial Meeting on Meteorology (PMMM-3) in Nadi, Fiji, have been urged to stand in solidarity to strengthen weather, climate, water, ocean and related development services in the context of sustainable development.
The call comes from Fiji's Minister for Public Works, Communications, Transport and Meteorological Services, Ro Filipe Tuisawau, who opened the third gathering of Ministers responsible for Meteorology on Friday.
"It is no exaggeration to say that climate change presents the greatest threat to Pacific Small Island Developing States in the entire sweep of human history. Unless we stand in solidarity and fight this battle together, then the Pacific, as we know it, is doomed," he said.
PMMM-3 follows the Sixth Meeting of the Pacific Meteorological Council (PMC-6) and the first PMC Development Partners and Donor Engagement Meeting hosted by the Government of the Fiji and supported by the Secretariat of the Pacific Regional Environment Programme (SPREP), World Meteorological Organisation (WMO) and other partners.
The PMMM-3 provides the opportunity for Ministers to discuss the critical role of National Meteorological Hydrological Services (NMHSs) and their contributions to both national and regional safety and sustainable development.
"Our experiences make one thing very clear and that is we need to become more resilient and move forward together as a Pacific family. In this regard, the need to improve disaster risk reduction and responses cannot be overstated. We cannot be complacent due to the many challenges we face today," Tuisawau said.
"Fiji government is committed to ensuring that we effectively play our role in providing people-centred early warning information to you all, especially from our regional specialised meteorological centre (RSMC) here in Nadi. We stand ready to work with you all in sustaining our end-to-end early warning system, strengthen the infrastructure, capacity and resources needed in our region."
The Pacific Met Week meetings attended by Government Ministers, members of the PMC, officials from the SPREP's member countries and territories, development partners, Council of the Regional Organisations in the Pacific (CROP), United Nations' agencies, collaborating organisations and institutions are guided by the theme: "Sustaining Weather, Climate, Water and Ocean Services for a Resilient Blue Pacific."
The Director General of SPREP, Sefanaia Nawadra, reiterated that Pacific leaders have continuously reaffirmed climate change as the region's single greatest threat.
"This week officials have been working tirelessly to bring to bear key priorities for our member countries. Weather Ready Pacific has been accorded utmost priority as it embodies the shared aspirations of our region in order to strengthen the region's resilience to the impacts of severe weather events – tropical cyclones, tsunamis, droughts, storm surges, flash floods. Support economies, protect communities," he said.
"Donors, both traditional and new have also worked alongside the Pacific Met Council – a testament to collaboration that is necessary and timely as we embark on the journey ahead of us – Pacific Weather Ready.
"Jointly our partner regional organisations have also being engaged as well. Whilst there has been considerable investment – more coherence, and targeted support is needed- to this end a donors roundtable took place yesterday at the conclusion of the PMC."
Nawadra said for the Pacific to build resilience, it is important that no one is left behind.
"A key milestone of the Pacific Met Week is the National Disaster Management Offices (NDMOs) have joined their met counterparts. The private sector have been here, members of the disability community have spoken here – all calling for partnerships to ensure early warning systems development and related initiatives involve them. It is only then we can say we have made progress on objectives and aspirations in the work we are here to do."
Nawadra also assured the Ministers that SPREP stands ready to serve all our members in the work ahead.
PMMM-3 is attended by delegations from American Samoa, Australia, Cook Islands, Fiji, French Polynesia, Kiribati, Republic of the Marshall Islands, Nauru, New Zealand, Niue, Palau, Papua New Guinea, Samoa, Solomon Islands, Tokelau, Tonga, Tuvalu, United Kingdom, United States of America and Vanuatu.
The Secretary General of WMO, Professor Petteri Taalas, highlighted the importance of the Early Warnings for All initiative, as an effective tool for climate adaptation.
He told the gathering that the UN Secretary General, Antonio Guterres, has tasked WMO and the United Nations Office for Disaster Risk Reduction (UNDRR) to co-lead the initiative, in cooperation with other UN agencies and partners, to provide every citizen on the planet with access to reliable, accurate and timely early warning system by the end of 2027.
"Early warning is one of the most effective ways of reducing damage from disasters, as it empowers people to make risk-informed decisions for food security, as well as other sectors," said Professor Taalas, referencing the State of the Climate in the South-West Pacific 2022 report launched during the meeting.
SOURCE: SPREP/PACNEWS