By Rowena Acraman
The new USAID Pacific Islands Mission was opened in Suva Tuesday at a ceremony organised at the United States Embassy.
It was opened by former U.S diplomat and USAID Administrator, Samantha Power who also inaugurated Zema Semunegus as the mission's Director.
Administrator Power emphasised the new USAID office will help enhance digital connectivity and cybersecurity, support Fiji in consolidating democratic gains, reintroduce the Peace Corps to the Pacific, forge new partnerships with the Food and Agriculture Organisation and the World Health Organisation, and develop a blue carbon research and analysis plan specific to the Pacific.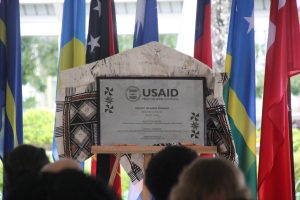 The mission's strategy extends over nine countries, including Kiribati, Tonga, Nauru, Samoa, Tuvalu, Fiji, Marshall Islands, Palau, and the Federated States of Micronesia. Representatives in respective countries will oversee Papua New Guinea, Solomon Islands, and Vanuatu.
"The event here in Fiji will allow us to focus on partnering with Pacific governments, regional organisations and communities to help us reach our final objective which is to deliver on the priorities in the 2050 strategy driving inclusive economic growth, promoting fair and transparent governance, protecting the regions incredible biodiversity and fighting climate change,"  she said.
Power said USAID will also support Pacific leaders who are advocating for change not only in their communities but for the entire region.
"As we mark the era of a new partnership, we are focused on supporting your efforts to chart that prosperous, inclusive and sustainable future USAID hopes to deliver for the people of the Pacific Islands,"
USAID aspires to connect the islands with resources that will bolster ongoing projects initiated by Pacific governments, Power noted.
"You urge the world to come together in the face of crisis and work toward it for a more just and sustainable future. We are committed to following in your lead,"
Power assured that USAID will not to take from the Pacific, but help the region by providing support to communities in need.
Newly inaugurated Mission Director for USAID in the Pacific Islands, Semunegu said she was honoured to be entrusted with such as important role and is very excited to start working on development projects in the Pacific.
"I am excited to lead development assistance projects and programs in the nine countries the Administrator mentioned. I am also very honoured to be sworn in by the Administrator Power,".
Semunegus pointed that from what she has understood from the plan, it wishes to promote creating a region of peace, harmony, security and social inclusion.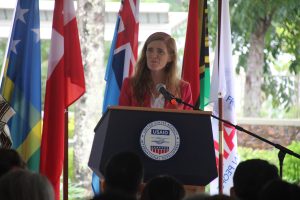 SOURCE: PACNEWS