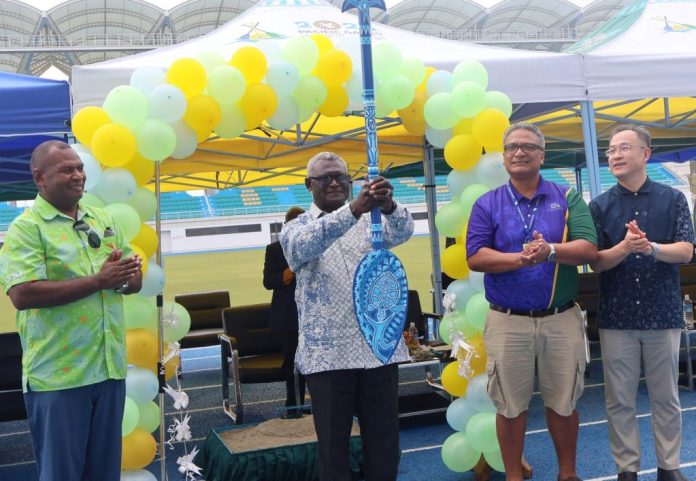 Solomon Islands Prime Minister Manasseh Sogavare has unveiled the Pacific Games 2023 Baton and also launched the 100- day Baton Relay Friday.
The paddle shaped baton will be flown to all nine Provinces with the courtesy of Solomon Airlines.
The baton will return to the national stadium on the 19th of November, the date of the official opening of the Games.
In unveiling the baton and launching the 100 day baton relay, our Prime Minister stated that the next 100 days when the baton travels around the country, the Games Organising Committee (GOC) and National Hosting Authority (NHA) will enter the most critical phase of the game's preparation.
PM Sogavare also issued a stern warning that he will hold the NHA Chairman and his Board accountable for any delay resulting from its procurement processes that could undermine the success of the PG2023.
The Prime Minister described the unveiling and launching of the baton as "we are in final home straight to the finish line".
PM Sogavare acknowledged Solomon Airlines for flying the baton to the rest of the country and further acknowledge those who will run with it in the Provinces.
"May God travel with our relay teams and the PG2023 Baton as it flies over our islands, climb over our hills and mountains, descend on our valleys, across our oceans and rivers, and give joy to our communities," PM Sogavare stated.
The Prime Minister added "Fly well, run well, walk well, and cross our seas and rivers safely as you take the PG2023 Baton to all corners of our beloved country".
SOURCE: SBM ONLINE/PACNEWS