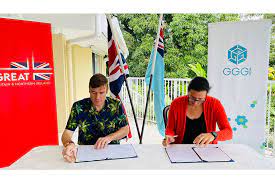 The British High Commission in Suva has announced a package of partnership support that will improve Pacific Island Countries access to and absorption of Climate Finance, and delivery of resulting projects.
This support will be for two years, with a possibility of a subsequent second phase. The investment managed through the Global Green Growth Institute (GGGI) is supported by the UK's Small Island Developing States Capacity and Resilience Programme (SIDAR).
Tackling climate change, environmental damage, and biodiversity loss is the UK's top international priority, and climate action and sustainability goes hand in hand with pursuing economic growth. Strengthening access and ability to deliver impactful climate finance can unlock low carbon development that will help the Pacific economies, reduce poverty, and reduce carbon emissions and the impacts of climate change.
The partnership will support Pacific resilience and adaptive capacity to climate change and pursue a low carbon future in line with National Adaptation Plans and NDC commitments through enhanced capacity to access and deliver the climate finance needed, by:
1)Embedding long-term technical advisors into Government institutions to strengthen institutional capability to access, absorb and deliver impactful climate finance, and;
2)Completing strategic feasibility studies to strengthen climate finance implementation and knowledge sharing
The British High Commissioner, Dr Brian Jones said, "The UK has nothing to teach the Pacific about resilience, but we have experience of working with large-scale global finance and have heard from Pacific partners that support and advice to access climate funding, absorb and implement it, is critical to progress in this area. We are excited to work through GGGI to offer technical expertise directly to Government institutions, to build sustainable capability to spend climate finance available here in the Pacific."
Pacific Regional Director GGGI, Katerina Syngellakis said, "This collaborative program builds on GGGIs experience in the region supporting Pacific Member States in accessing climate finance as partners embedded within government institutions. We are enthusiastic to be partnering with the UK to continue to advocate for and build capacity for climate finance for the Pacific."
SOURCE: UK GOVT/PACNEWS