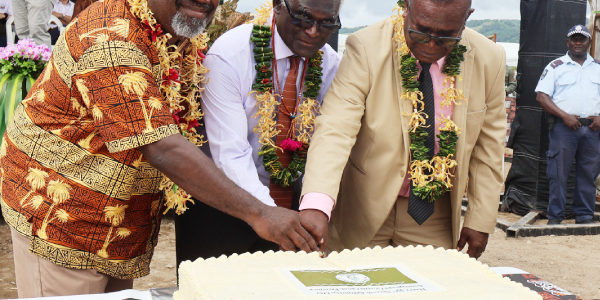 A Constitutional Amendment Bill to commence the scrutinisation of the draft federal constitution is anticipated to go before Solomon Islands parliament in the current sitting.
Prime Minister Manasseh Sogavare made the announcement in his Address at the 39th Guadalcanal Province Second Appointed Day Celebration at Mamara, Northwest Guadalcanal.
PM Sogavare said the Bill will seek to amend section 61 of the National Constitution.
The proposed amendment will provide for the creation of a Constitutional Assembly to be responsible for the thorough scrutiny of the draft federal constitution.
The Prime Minister said matter of state government is a commitment he, as the Prime Minister, is diligently following up on.
PM Sogavare said the recommendation made by the Imminent Persons Group and People's Congress to scrutinise the draft federal constitution is akin to availing the constitution for peer review. Adding, that he is satisfied by the recommendation.
"Accordingly, I have directed the Constitutional Reform Unit in the Prime Minister's Office to bring a cabinet paper to get the approval of cabinet for the immediate implementation of the process for the country to adopt, the Prime Minister highlighted.
"A constitutional Amendment Bill to amend Section 61 of the Constitution will be brought to Parliament during this meeting to commence the process", PM Sogavare added.
The Prime Minister further acknowledge the Premier and Guadalcanal Members of Parliament in DCGA for consistently pushing for the issue of state government.
PM Sogavare said this is a true sign of leadership and concern for peace and stability in the country.
"I want to assure the people of Guadalcanal and this nation that I will not fail you on this matter," the Prime Minister highlighted. The Prime Minister was also, as a traditional formality presented with a chupu to signify his presence at the 39th Second Appointed Day of the Province..
SOURCE: SOLOMON STAR/PACNEWS