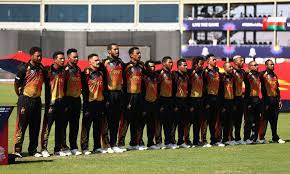 The ICC Men's T20 World Cup East Asia Pacific (EAP) Qualifier gets underway in Port Moresby from 22 – 29 July.
Japan, Philippines, and Vanuatu join Papua New Guinea (PNG) in a 12-match long battle, over eight days, for one spot which will be a direct ticket to what will be the biggest ICC Men's T20 World Cup ever, in the West Indies and the United States of America (USA) in June 2024.
PNG made their World Cup debut in the ICC Men's T20 World Cup 2021 which was staged in the UAE and Oman. They returned for the 2022 edition in Australia and will look for a repeat performance in their regional qualifier and put to action the lessons learned in the two global events.
Cricket Papua New Guinea CEO, Richard Done said: "Cricket PNG is thrilled to be hosting the ICC Men's T20 World Cup East Asia Pacific Qualifier in Port Moresby. We have a long and proud history of cricket in the country, and we are excited for the world's eyes to be on Port Moresby for a week of top-quality international men's cricket. We are ready to go in what is set to be one of the biggest sporting events ever seen in PNG, with a direct qualification to the ICC Men's T20 World Cup on the line."
Japan captain, Kendel Kadowaki-Fleming said: "This is a great chance for our group to challenge ourselves against the strongest countries in the EAP region.
"The opportunity to play in an ICC Men's T20 World Cup, following in the footsteps of our Under 19s a few years ago, is really exciting and would bring countless new viewers to the sport in Japan."
Philippines captain, Daniel Smith said: "We are deeply honoured to represent the Philippines at this EAP Qualifier. This is an immense opportunity for Philippines Cricket, being on the cusp of T20 World Cup qualification, and we'll be looking to draw upon the strength of our shared identity and passion for our cultural heritage to bring joy to our dedicated supporters across the globe and sculpt the future of Philippines Cricket for the years to come."
PNG Captain, Asadollah Vala said: "The ICC Men's T20 World Cup East Asia Pacific Qualifier means a lot to the PNG players as this is the biggest cricket tournament ever hosted in Papua New Guinea. We know that winning this event will take us directly to ICC Men's T20 World Cup in 2024, but we're not looking too far ahead. We will focus one match at a time against three good teams from Japan, the Philippines and Vanuatu. The boys have been working hard and are looking forward to the first game this Saturday.
"We can't wait to play at home where our family and friends will be out in full force to support the team – it's good extra motivation to do well.
"Thank you to the ICC, and to our all our sponsors for bringing in the specialist coaches over the last year to help us prepare for the tournament. See you all on Saturday 22nd July 2023 at Amini Park in Port Moresby."
Vanuatu captain, Patrick Matautaava said: "This tournament represents a once in a lifetime opportunity for our men's team and is our first ever chance to qualify for the ICC Men's T20 World Cup. We have been training hard with our new coach Chris Laffan, and assistant coach Jeff Cook, and the team is looking for the win.
"On a national level, winning this competition means we could be the first senior sporting team to qualify for any World Cup. All the boys are looking forward to competing and have a hunger to win. We have our eyes on the prize."
ICC EAP Regional Development Manager, Rob Gomm said: "The ICC is delighted to bring international cricket to Port Moresby at the ICC Men's T20 World Cup East Asia Pacific Qualifier. Teams have come from all over the region to play for their direct qualification at the ICC Men's T20 Word Cup.
"Whilst PNG will no doubt provide incredible hospitality off the field, on the field they will be looking to qualify for their second T20 World Cup appearance. But in their way are teams from Japan, Philippines, and Vanuatu. I wish all the players, coaches, and match officials the best of luck and as always, I hope they enjoy the unforgettable experience at an ICC event.
"I would like to acknowledge and thank all the people who have worked so hard to make this event a success, especially the staff of Cricket PNG who have worked tirelessly to put on this great event."
The participating squads are as follows:
Japan: Kendel Kadowaki-Fleming, Ryan Drake, Kohei Kubota, Piyush Kumbhare, Wataru Miyauchi, Supun Nawarathna, Sabaorish Ravichandran, Reo Sakurano, Alexander Shirai-Patmore, Declan Suzuki-McComb, Mian Muneeb Siddique, Tsuyoshi Takada, Ibrahim Takahashi, Makoto Taniyama, Lachlan Yamamoto-Lake.
Philippines: Hernie Ma Isorena, Surinder Singh, Amanpreet Singh Sirah, Gurbhupinder Singh, Arashdeep Singh Samra, Kapil Kumar, Huzaifa Mohammed Akram, Grant Ronald Russ, Josef Erwin Abayata Doctora, Kepler Dean Lukies, Francis Norman Walsh, Jordan Ethan Henry Alegre, Daniel Christopher Evan Smith, Liam Jacob Myott, Jean Miguel Catapang Podosky.
PNG: Charles Amini, Sese Bau, Kipling Doriga, Jack Gardner, Riley Hekure, Hiri Hiri, Sema Kamea, John Kariko, Alei Nao, Lega Siaka, Tony Ura, Kabua Vagi-Morea, Asodollah Vala, Norman Vanua, Hila Vare.
Vanuatu: Patrick Matautaava, Junior Kaltapau, Ronald Tari, Andrew Mansale, Simpson Obed, Darren Wotu, Apolinaire Stephen, Williamsing Nalisa, Joshua Rasu, Nalin Nipiko, Womejo Wotu, Jarryd Allan, Clement Tommy, Jamal Molidurumahava Vira.
East Asia Pacific (1 qualifying team)
22-29 July 2023 – Papua New Guinea
Japan, Papua New Guinea, Philippines, Vanuatu.
SOURCE: ICC/PACNEWS