Contributing to this week's Marshall Islands Summit on Democracy: Public Engagement, Communications and the Media, the Pacific Anti-Corruption Journalists Network (PACJN) has launched a new toolkit for Pacific Journalists Reporting on Corruption.
The toolkit is part of PACJN's efforts to support Pacific journalists to strengthen their investigative journalism and anti-corruption reporting through more effective engagement with the UN Convention against Corruption (UNCAC) and the Pacific regional anti-corruption roadmap, the Teieniwa Vision.
Access toolkit: 2023.06.12 PACJN Journalists toolkit
PACJN is supporting three experienced investigative journalists and its Coordinator to participate in the Summit and a four-day pre-summit training for North Pacific journalists along with a session on Teieniwa Vision and using the new toolkit as part of PACJN's media strengthening programme, implemented by the Pacific Islands News Association (PINA) with support from the United Nations Office on Drugs and Crime (UNODC) and New Zealand Aid Programme.
Veteran Journalist, Kalafi Moala of Talanoa O Tonga with his feedback on the presentation by Rimon Rimon on the Teieniwa Media Toolkit for Journalists. Presentation was for participants to the Media, Democracy and Elections workshop in Majuro. @PACNEWS2 pic.twitter.com/gRQGDuh3gu

— @Pacjn (@Pacjn1) June 21, 2023
"PACJN is delighted to be working with the Pacific Media Institute's Summit on Democracy in Majuro this week and share the expertise of our anti-corruption journalists who have worked with the toolkit author, Kiribati investigative journalist Rimon Rimon, to strengthen Pacific investigative reporting," said Solomon Islands journalist and PACJN coordinator Gina Kekea.
Kekea said this is the first time the toolkit will be shared since its finalisation last week and PACJN is looking forward to sharing the toolkit with other journalists in the Pacific as well.
"I am glad that PACJN members, veteran Tongan Journalist Kalafi Moala and Fiji investigative journalist, Anish Chand are also with me sharing their experiences in reporting corruption in the pacific, particularly from their home countries'.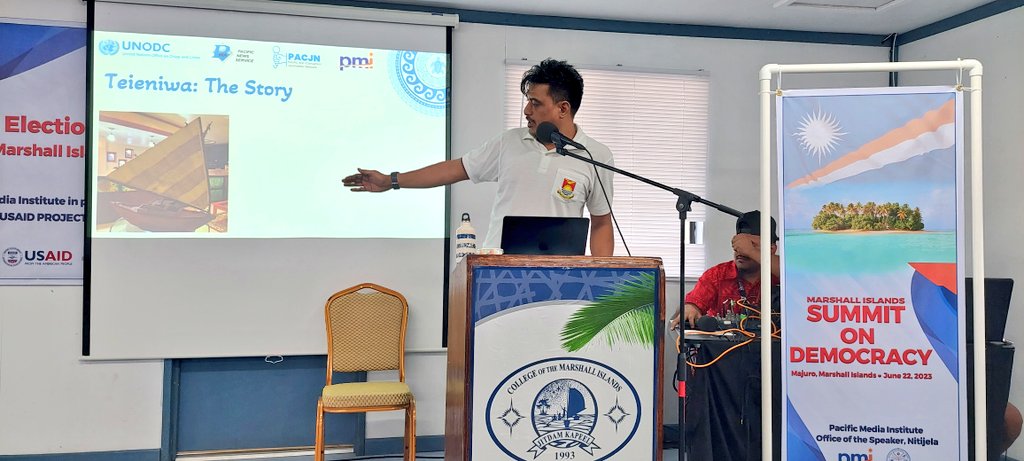 The Teieniwa Vision media toolkit was presented by Rimon Rimon on behalf of PACJN at the PMI workshop for participants at the College of the Marshall Islands.
PINA also welcomed the initiative of North Pacific journalists to connect the media's communication work to the strengthening of democracy.
"PINA has seen a marked increase in the quantity and quality of significant anti-corruption reporting and investigations being carried out since we helped establish PACJN, with journalists also broadening their work to report on the need for freedom of information, whistleblower protection and democratic engagement of the whole community," said Makereta Komai, Managing Editor of PINA.
Wilmer Joel from the Marshall Islands Journal shares his opinion of the Teieniwa journalist toolkit presented by author @rmrimon on behalf of PACJN @ginakekea @JohnHydePerth @PACNEWS2 @achandftv pic.twitter.com/ytnXwscuL3

— @Pacjn (@Pacjn1) June 21, 2023
"This toolkit and the ongoing capacity building of PACJN through the Building the Capacity of Pacific Media to Report on Anti-Corruption project helps put the work of individual
Pacific journalists into the regional push to counter corruption in all its forms," said Marie Pegie Cauchois, UNODC Pacific Anti-Corruption Adviser.
Walking the talk towards a secure, peaceful #Pacific2050 future through good governance, access to information, and fighting corruption.
Pacific media urged to raise #Teieniwa #Boe and #Biketawa Declarations with #ForumLeaders. @Pacjn1 pic.twitter.com/kdJ9kmUAAD

— Pacific Islands Forum (@ForumSEC) June 21, 2023
The Building the Capacity of Pacific Media to Report on Anti-Corruption project grant to PINA is administered by UNODC through the UN Pacific Regional Anti-Corruption Project (UN-PRAC), supported by the New Zealand Aid Programme.
SOURCE: PACJN/PACNEWS