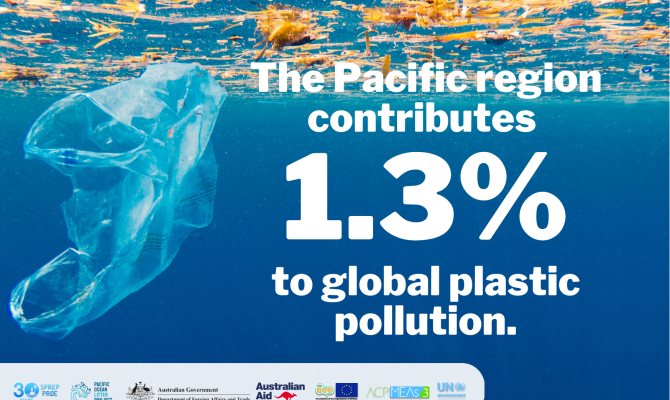 – Burdened by increasing plastic waste, the world is working towards a legally binding treaty to address this global issue across five international meetings.
Our international community is being tasked with developing an agreement ready for action by the end of next year through the International Negotiating Committee (INC).
The first International Negotiating Committee was held in Uruguay in November 2022 with the second to be held in France in May 2023. To prepare for this, the Pacific region are meeting this week in the Cook Islands.Together our region will enhance our strategy for Pacific Islands concerns to be reflected in this global agreement.
The Pacific Regional Preparatory Workshop is convened by the Secretariat of the Pacific Environment Programme (SPREP) with funding support from the Government of Australia and the Capacity Building Related to Multilateral Environmental Agreements (MEAs) in African, Caribbean and Pacific (ACP) Countries – Phase III.
"I know that every one of you understands the magnitude and importance of negotiating a global instrument that reflects our Pacific regional concerns. We are grossly and disproportionately affected by the plastic pollution that ends up in our oceans with around 98.7 percent coming from outside sources," said Sefanaia Nawadra, Director General of SPREP as he opened the two-day meeting.
"Micro and nano plastics is ubiquitous. It is found along coastlines in islands and atolls habited and uninhabited. Microplastics have been found in 33 out of 34 species of coastal fish is Suva's coastal waters. Microplastics have also been found in the guts of seabirds and turtles. We must fix this problem together."
Worldwide plastic production has grown from approximately 1.5 million metric tons in 1950 to an estimated 275 million metric tons by 2010, and then approximately 359 million metric tons by 2018.
Approximately 8 million metric tons of plastic makes its way into our oceans each year. For the Pacific Islands region, residents within the worlds largest ocean, this causes concern.
It is our Pacific Ocean that helps buoy our livelihoods, way of life, culture and identity.
"We bear the brunt of a lot of plastic pollution that comes from a lot of countries that floats through the ocean to our Pacific. Ninety percent of plastic pollution ends up in our environment," stated Ilana Seid Ambassador of Palau to the United Nations. Palau is also currently the Chair of the Pacific Small Islands Developing States.
"We don't contribute a lot to the problem, but we seem to bear the brunt of the impact. We have and can be a large voice, to be a part of the solution, our Pacific can become a leader in these plastic negotiations."
The INC was formed during the Fifth Session of the United Nations Environment Assembly in 2022, when over 190 governments agreed to the resolution to "End Plastic Pollution: Towards an International Legally Binding Instrument" on plastic pollution including in the marine environment.
This resolution is in line with the Pacific Regional Declaration on the Prevention of Marine Litter and Plastic Pollution and its Impacts, which has expressed grave concerns from our Pacific leaders about environmental, social, cultural, economic, human rights and other impacts of plastics pollution at every stage of its life cycle.
"We are the frontline and vulnerable communities taking on the systematic threat of plastic pollution, and its disproportionate negative socio-economic and environmental consequences.," said Halatoa Fua, Director of the Cook Islands National Environment Service.
"The road to INC2 and beyond is a difficult one if we do not work together to form a clear position as a region. The road to INC2 and beyond is an easy one if we stand together as a strong region, with our voices as loud as our oceans. We call for a treaty that is firmly rooted in a human rights-based approach and our research is supported by science, and one that honours the waste hierarchy and precautionary principles."
The Pacific Regional Preparatory Workshop for the Second Intergovernmental Negotiating Committee was held in the Cook Islands from 24 – 25 April, 2023.
SOURCE: SPREP/PACNEWS