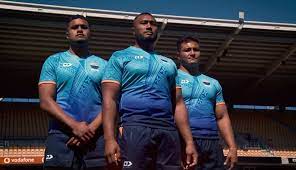 Samoa will turn on the fireworks when they welcome Moana Pasifika ahead of their Super Rugby Pacific clash against the Reds in Apia on Friday.
A welcome parade is taking place today and will follow the Police Marching Band to the Government building for the flag-raising ceremony and national anthem.
The public will then be able to meet the Moana Pasifika players after that or at various community events at schools including at Savaii Island, rugby clubs, and villages during the week.
Moana Pasifika coach Aaron Mauger said his players are keen to play in Apia for the first time in front of a vocal crowd.
"The boys are very excited, especially our local boys been able to bring their Moana family home and introduce our team to our fans back in Samoa. So it's really exciting, like it's It's groundbreaking stuff," said Mauger.
"That's going to be a very historical occasion. I'm sure there's going to be a lot of emotions flying around and the support will really lift the team and allow us to put our best performance against the Reds."
The team has a selection of Fijian, Samoan and Tongan players in their squad, and Moana Pasifika will be hoping they can also play in Tonga and in Fiji in the near future.
Pelenato Sakalia, Moana Pasifika Chief Executive Officer, told Moana Pasifika media the match will be part of Samoan history, being the first time the franchise has played outside of New Zealand and Australia.
"Moana Pasifika looks forward to playing the Reds in front of a packed out stadium of local fans and family at the first ever home game in Apia that will showcase Samoa to the world," Sakalia said.
Moana Pasifika are coming off another loss but one that will give them a lot of hope ahead of the game against the Reds.
Pasifika rocked the Crusaders in their Super Rugby Pacific match at the weekend in Christchurch but ultimately went down 38-21.
They scored three tries to the Crusaders two in the first half to take a 21-17 lead at half time.
It was a much better performance from Pasifika that led for large parts of the game but again let themselves down in the final quarter.
They are still looking for a win this year in Super Rugby Pacific but despite that Aaron Mauger didn't want any sympathy for his team saying the team management were looking at the bigger picture.
His ambition is to build Moana Pasifika so that they would return and play for their home countries in the future.
"We want to attract the best aspiring, or established Pasifika players that we can," Mauger said.
"But we've still got a lot of work to do, both on an off the field to get there. It's still very new, but there is the possibility for us to get there.
"We certainly don't want sympathy. We appreciate empathy and people understanding the journey and a lot of people probably don't understand the journey.
"We don't want anyone feeling sorry for us and we don't feel sorry for ourselves.
"We understand where we're at on the journey and we've got to push through the tough times, because we know the good times will follow."
He said the purpose of the team was so that players get a pathway to Samoa, Tonga, Fiji and other Pacific Island nations.
"It's really around developing Pacific Island rugby for the benefit of Pacific Island rugby. Because otherwise nothing changes," Mauger said.
"Pacific Island rugby has been benefitting these top international teams around the world, whether that's the All Blacks, Wallabies, England or France."
That is evidenced by players from the Islands gracing many of the teams on the 7s circuit.
"The best players are often playing for other countries, not their country of birth or lineage.
"That's what we're trying to promote, for players to want to play for their home countries, Samoa, Tonga, Cook Islands and Fiji.
"It's not just about results, we're really trying to create a pathway, our kaupapa is to connect and inspire people to represent Pasifika, not New Zealand, Australia or any of those countries.
"We're trying to create the vehicle to show that this is maybe the best pathway for them," he said.
SOURCE: RNZ PACIFIC/PACNEWS