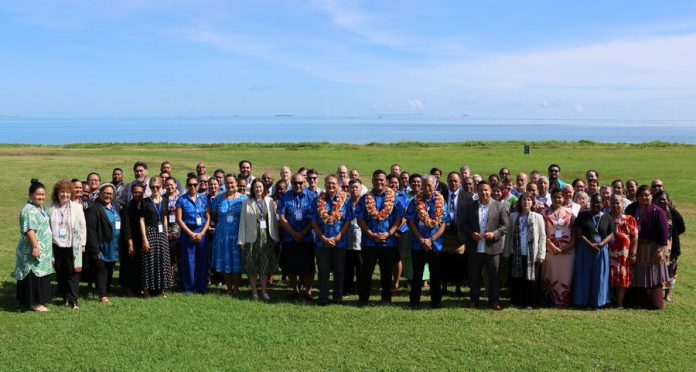 Pacific and global officials, technical and legal experts concluded a Regional Conference on Statehood and Sea Level Rise, in Fiji last week.
Key recommendations for further consideration by the members of the Pacific Islands Forum will go through further discussions by Forum Committees and Subcommittees.
The 2023 Regional Conference, from 27 to 30 March 2023, was chaired by Jim Armistead, High Commissioner of the Cook Islands to Fiji, supported by the Forum Secretary General Henry Puna and Deputy, Dr Filimon Manoni.
Almost 100 senior legal, policy, and technical officials from PIF Member states including participants from their UN missions, as well as regional agencies attended the Conference.
The Conference also saw strong attendance from globally respected regional and international experts in the relevant fields of international law who provided expert perspectives on possible legal options and institutional responses for consideration by the region. The experts included members of the International Law Commission, International Law Association, and other universally recognised and leading global universities.
The recommendations of the Regional Conference will guide the region's collective efforts — as mandated by Foreign Ministers in 2022– to advance regional dialogue and collective action in relation to these critical issues for the Blue Pacific.
The Regional Conference will also progress the mandate from Forum Leaders at their 51st Meeting on 14 July 2022, which recognised the impacts of climate change and disasters as a threat to the future of the region's people and the statehood of many Pacific nations.
The Regional Conference stems from a call by Forum Leaders to further unpack the complexities around of the issues of statehood and persons affected by sea-level rise to ensure better clarity and understanding in order to develop the most effective collective response.
SOURCE: PIFS/PACNEWS