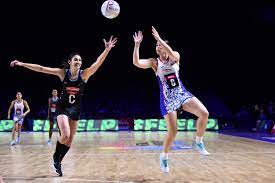 Netball Australia welcomed four Pacific partners in a bid to extend its presence and grow leadership in the region.
With Fiji and Tonga looking towards the Netball World Cup in July and with the Commonwealth Games coming up in 2026, momentum is building within the Pacific islands.
Not only are their athletes working hard to prepare, so too are the staff of their National Federations.
To assist in their preparations and growth, members from Netball Fiji, Netball Papua New Guinea (PNG), Netball Samoa, and Tonga Netball were invited to come to Australia to learn more from the staff at Netball Australia.
Pacific representatives, including board members, CEOs, and staff specialising in areas of sport development, marketing and communications, high performance, and administration and finance were in attendance, and taken through an intensive three days of sessions delivered by the staff of Netball Australia and other Australian experts.
Administrators from the four Pacific nations were taken through a comprehensive commercial partnerships workshop, which was timely given the opportunities for the sport and their national teams over the next four years.
The session was thought provoking, identifying the many opportunities that may be available to help netball grow in the Pacific.
Netball Australia's Chief Executive Officer, Kelly Ryan, also shared her vision for netball in Australia during the workshop, as the organisation moves forward under a new strategic plan.
Another key theme of the workshop was inclusion and participation, particularly getting to know what your community needs and wants.
Reflecting on the three-day workshop, Netball PNG's Media and Communications Manager Kori Toua Navuru came away with a new sense of value.
"Networking with my colleagues, reflecting on where we are compared to other countries, and learning and sharing from each other were aspects I enjoyed during the workshop. We've had time to value each country and their work, and how this will impact netball development in the Pacific," Toua Navuru said.
Netball Australia has a multi-year partnership with Australian Government's Department of Foreign Affairs and Trade under the Pacific Women's Sports Administration Program (ODA) to support the development and empowerment of women in netball in the Pacific.
SOURCE: NETBALL AUSTRALIA/PACNEWS