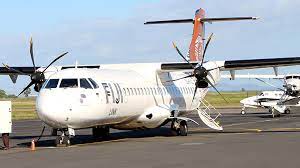 Fiji Airways staff say bodyguards for former attorney-general Aiyaz Sayed-Khaiyum were allowed to carry guns onto Fiji Link domestic flights when he was a passenger without Civil Aviation Authority of Fiji (CAAF) approval.
Current and former airline ground staff have told this newspaper they were directed by Fiji Airways senior management to allow the guns to be carried in the cockpit of Fiji Link aircraft, even though approvals from CAAF had not been obtained.
Fiji Airways chief executive Andre Viljoen says there are "regulatory approved processes and procedures" for the carrying of dangerous goods which "are followed strictly in every instance".
However CAAF has told this newspaper that it issued no approvals for firearms to be carried for the purposes of Sayed-Khaiyum's travel. Sayed-Khaiyum was the minister for Civil Aviation in the FijiFirst government from 2014 to 2022.
He has not responded to The Fiji Times emails to him on the allegations.
Emily Simmons, a former member of Fiji Link's Premier Service team, told the Fiji Times that Fiji Airways staff had initially raised concerns when Sayed-Khaiyum's bodyguards carried firearms on board domestic flights.
"The proper procedure is that we must see or be given written approval from CAAF and the airline, and once this has been satisfied, the magazine (the part of the gun holding bullets) must be ejected and stored separately from the weapon in the cargo hold," she said.
"But every time the former A-G and his bodyguards travelled, we were told by a very senior executive to allow the weapons onboard and for them to be kept in the cockpit with the pilots. "We knew this was a breach but we couldn't do anything about it because we needed our jobs.
"To my knowledge, we were never shown a written approval from the airline or CAAF (Civil Aviation Authority of Fiji).
"We were just told verbally to allow it." Another ground staff member who spoke to this newspaper on the condition of anonymity claimed he was seriously concerned when told to allow the weapons onboard the flights.
"The first time I came across it, I asked them if this was for real," he said.
"I was told it was the norm but I was concerned because as far as airline and civil aviation regulations go, that was definitely not the norm.
"I had never seen an email authorisation approving the carriage (of firearms) or a fax — which is per CAAF regulations."
Regulation 29 of Fiji's Air Navigation Regulations prohibit the carrying of arms and ammunition in any aircraft flying "to, from, within or over Fiji" without CAAF permission.
CAAF follows international standards called "Technical Instructions for the Safe Transport of Dangerous Goods by Air" issued by the International Civil Aviation Organisation (ICAO).
Regulation 13 of the Civil Aviation (Security) Regulations allows "any police officer or other person lawfully entitled to carry firearms in the course of their duties" to carry them on an aircraft only in the course of official duty and with the permission of CAAF.
Another staff member, who also spoke on the condition of anonymity said security regulations from CAAF and the airline "are clear about arms and ammunition carriage".
He said that under ICAO rules, the pilot-in-command must be notified, and "proper written documentation authorising the carriage of a weapon is presented".
CAAF acting chief executive officer Theresa O'Boyle-Levestam said CAAF had not issued any approvals to Fiji Airways for the carriage of firearms for Sayed-Khaiyum's bodyguards.
Asked if CAAF had issued a "blanket approval" for them, she said "CAAF does not grant blanket approvals for carriage of firearmson board an aircraft".
Asked to supply copies of any approval if granted, she replied: "We do not hold any approval as such on record."
This newspaper had asked Fiji Airways whether its management was aware of the issue, whether the former A-G had obtained approval for his bodyguards' firearms to be taken onto Fiji Link aircraft and whether it gave written approval for the weapons to be kept with the pilots.
The Fiji Times had also asked whether the airline obtained an approval from CAAF and, if so, whether we would be allowed to see a copy of it.
In a statement recently, Fiji Airways CEO Andre Viljoen said the airline "followed strictly in every instance" its processes and procedures for carrying dangerous goods, including firearms.
Viljoen was responding to The Fiji Times queries on allegations that bodyguards for former attorney-general Aiyaz Sayed-Khaiyum were allowed to carry guns on FijiLink domestic flights without approval from the Civil Aviation Authority.
Viljoen declined to comment further on the story "due to the security sensitive nature of the issue".
"The safety and security of our customers remains our utmost priority," he said.
Viljoen's comments came after four failed attempts to obtain comments from Fiji Airways on the allegations.
The Fiji Times had emailed Fiji Airways manager corporate communications Edwin Nand on 30 January, 13 February, 17 February and 21 February without response.
On Friday, 03 March The Fiji Times editor Fred Wesley wrote to Fiji Airways chairman Rajesh Punja, Viljoen and FijiLink chief executive Shaenaz Voss to ask why the airline had not responded. Viljoen issued the two-paragraph statement through Nand at 4.38pm on 06 March.
SOURCE: FIJI TIMES/PACNEWS