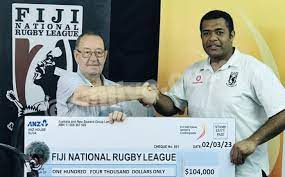 The Melanesian Cup between the FNRL State of Origins winners Western Maroon and PNG Hela Wigmen will be held in Fiji after a lapse of two years.
Fiji National Rugby League interim chief executive Don Natabe confirmed the match between the two teams will be played at Churchill Park in Lautoka next weekend.
"FNRL has approved and sanctioned the Silktails match as the curtain raiser to the Melanesian Cup. As traditional rivalries of rugby league, Fiji and PNG continue to strengthen our bilateral ties and promote the sport across the region, especially in the absence of an international rolling calendar."
Meanwhile, Fiji National Sports Commission acting chief executive Peter Mazey also presented a $104,000(US$52,000) cheque to the FNRL for the Melanesian Cup and upcoming competitions Monday.
Natabe said Hela Wigmen was the winner of the Papua New Guinea rugby league competition last year.
He also said four matches will be played at the Venue with the Vodafone Trophy Under 19 played at 9 am and 9.50 am respectively.
At mid-day, the clash between Kaiviti Silktails and Canterbury Bulldogs in the Ron Massey Cup Round 2 competition will be played.
The Melanesia Cup match will kick off at 3 pm.
The ticket prices are $5 embankment and $7 for the grandstand while kids in uniform are $2.
SOURCE: FIJI LIVE/PACNEWS