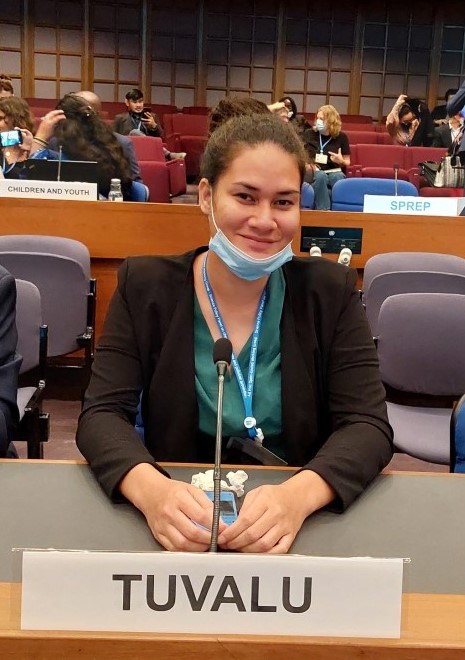 Pacific countries have added their voice to a growing chorus of support for the establishment of a science-policy panel to contribute further to the sound management of chemicals and waste and to prevent pollution.
The latest opportunity to do this was at the resumed First Meeting of the Open Ended Working Group (OEWG) on a Science-Policy Panel for Chemicals, Waste, and Pollution at the United Nations Conference Centre in Bangkok, from 30 January to 3 February 2023. Representing the Pacific amongst 122 countries in attendance were delegates from the Republic of Marshall Islands (RMI), Samoa, Solomon Islands, Tonga and Tuvalu.
For climate change and biodiversity, there are dedicated platforms, such as the Intergovernmental Panel on Climate Change (IPCC) and Intergovernmental Science Policy Platform on Biodiversity and Ecosystem Service (IPBES), to bring together scientists and policymakers to discuss the state of knowledge, identify gaps, and explore options to accelerate action. These science-policy panels have also increased global attention to the climate and biodiversity crises. At present, no equivalent panel exists for chemicals, waste, or pollution.
Mone Lapaoo, of the Waste Management & Pollution Control Division of Tonga's Department of Environment, reiterated the need to establish a science panel when he addressed the meeting in Bangkok.
"We are full hands on deck in support of the global effort by countries and the Secretariat in driving these proposals for the establishment of this Science policy panel. The proposed approach and scope related to chemical waste, and pollution, will be an instrument available to protect our fragile environment as a Small Island Developing State (SIDS)," Lapaoo told the gathering.
"I believe that our waste, chemical and pollution issues have not been fully addressed on the global stage, but establishing this Science policy panel, will provide an opportunity, to pick up issues not addressed by existing science policy interfaces of waste and chemical multilateral environment agreements like the BRS conventions."
The first session of the OEWG was held in two parts. The first part took place on 6 October 2022 in Nairobi in a hybrid format, and the resumed first session (OEWG-1.2) was held in person. Regional and other groups preparatory meetings were held on 29 January 2023 at the meeting venue.
Pollution causes one in six deaths worldwide in addition to damaging the environment. Yet, chemical and waste issues tend to receive less policy and public attention.
At the resumed first meeting (OWEG 1.2), delegates focused on the scope and functions of the panel. Capacity building attracted particular attention, which delegates ultimately agreed would be a
new function of the panel. Discussions will continue, informed by two proposals that put forward different visions for the capacity building function.
OEWG 1.2 also agreed on a list of the elements that will have to be negotiated and adopted in order to establish the panel. These include rules of procedure, processes for adopting assessments, and institutional arrangements, among many others. Delegates further agreed to a timeline, when each will be discussed, and how intersessional work will proceed.
The Secretariat of the Pacific Regional Environmental Programme (SPREP) supported the Pacific's participation. SPREP's Hazardous Waste Management Adviser, Mr Joshua Sam said the Secretariat believes in evidence-based policy making for the protection of the Pacific environment and its people and their unique ways of life.
"We believe our people have a right to a clean, healthy, and sustainable environment. In the same manner, SPREP believes, it is our people's right to have access to science-based policies to protect the human rights of Pacific people exposed to hazardous substances and wastes," Mr Sam said.
Pacific island countries face multiple challenges that make them vulnerable to the adverse impacts of waste, chemicals and pollution. While they have national programmes that address their waste, chemicals and pollution challenges, these efforts are not always based on sound scientific evidence and therefore do not provide protection to their people and the environment.
SOURCE: SPREP/PACNEWS