Trade and investment opportunities between the U.S and Pacific are expected to gain traction, with the first iteration of the US-Pacific Trade and Investment dialogue Tuesday.
The dialogue was held virtually, supported by the Pacific Islands Forum Secretariat and U.S Government and attended by senior officials from: trade, investment and fisheries agencies from each Forum Member country; the Office of the U.S Trade Representative; U.S Department of State; U.S International Development Finance Cooperation; U.S Department of Conservation; U.S Department of Transportation; U.S National Oceanic and Atmospheric Administration; U.S Agency for International Development; U.S Trade and Development Agency; and the U.S National Security Council.
The dialogue follows the U.S-Pacific Island Country Summit in Washington DC on 28-29 September 2022. At the summit, the U.S committed to establishing a US-Pacific Island Country Trade and Investment Dialogue in 2023, to credibly target the region's trade and investment needs.
In Tuesday's sessions, the Pacific outlined their priority areas for closer U.S-Pacific Island Country engagement on regional and national trade, investment and development cooperation needs, and the U.S outlined how best to leverage resources and programmes to support priority areas. The dialogue covered a range of topics, including – aid-for-trade; private sector development; investment; utilisation of the Generalised System of Preferences; a special trade and investment arrangement; and the rules-based multilateral trading order.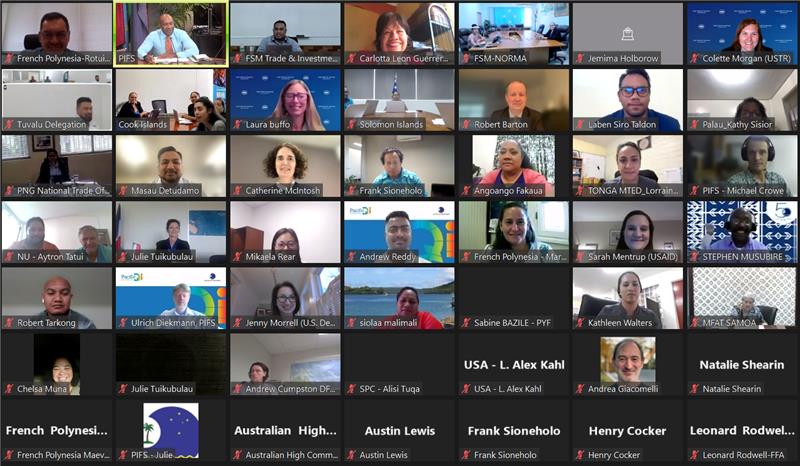 The Pacific Islands Forum Secretariat's Director of Programme and Initiatives, Zarak Khan, said, "as the U.S looks to strengthen its partnership in the region, we welcome Forum Members' commitment and willingness to work closely with the U.S by indicating regional and national trade and investment priorities and reiterating the importance of having an ongoing dialogue that leads to tangible outcomes as equal partners".
Fiji's Permanent Secretary for Trade, Cooperatives and SMEs and Communications, Shaheen Ali, said, "trade and investment play a critical role — especially for small island economies — in our pursuit of sustainable and inclusive economic growth. But as island economies, we are limited in resources and capacity. We are vulnerable to external shocks, such as climate change that hinder our growth. Despite our challenges, there is immense potential in our people. By working together, as a region, we can create stronger people to people connections that usher greater economic integration. In this regard, the U.S will play a critical role in supporting our efforts to increase trade and investment opportunities in the region".
The second iteration of the Dialogue will happen in-person at Ministerial level in the margins of the Forum Trade Ministers' Meeting, later in 2023.
SOURCE: PIFS/PACNEWS