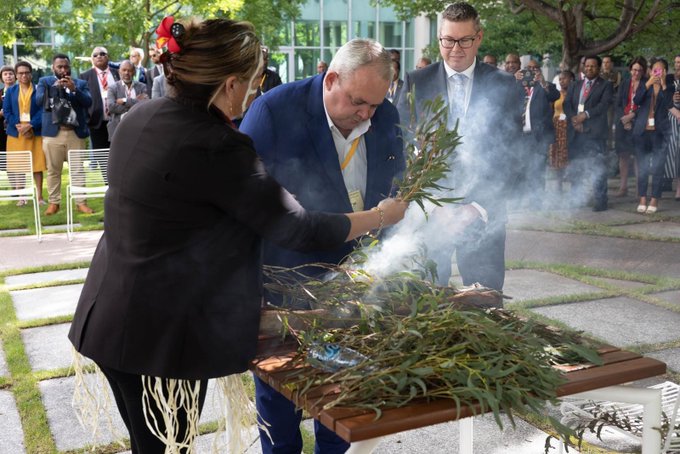 Australia and Papua New Guinea are on track to increase defence co-operation and sign a new security agreement by April.
The foreign ministers are co-chairing the 29th ministerial forum in Canberra on Friday, bringing together nine Australian ministers and 16 from PNG to discuss security, development and economic potential.
Defence Minister Richard Marles lauded PNG as an important neighbour and security partner after an informal dinner between ministers on Thursday night.
"PNG is a profoundly important country for Australia, in so many ways, but security is definitely one of them. It's a critical part of our national security landscape," he told reporters in Canberra on Friday.
"A lot of the conversations I've had with my counterpart Win Bakri Daki is about thickening what is already a very strong relationship between our two militaries.
"The negotiations in respect of this are very much on track."
Education Minister Jason Clare met with his PNG counterpart Jimmy Uguro on Wednesday to discuss scholarship programs and encouraging people to study in Australia.
"Most Australians know that we owe the people of PNG a debt of gratitude we can never fully repay,' Clare told reporters on Friday in reference to locals joining Australia's campaign in World War II.
"We talked about some of the things the Australian government is already funding in PNG … so we can get more students studying in Australia, more lecturers here and more Aussies doing that sort of work in PNG.
"Out of that meeting, I think there's an opportunity for us to do even more."
Vice-trade minister Kessy Sawang says a scholarship provided by the Australian government to Papua New Guineans to study abroad is one of the best initiatives Canberra has in the Pacific.
"You have some of the world's best standards of education here," she told AAP.
"That will pave the way for a new relationship between Papua New Guinea and Australia that is based on people-to-people connections."
Sawang said the two nations needed to re-evaluate their relationship and focus on personal ties.
"Most of our relationships are based on our colonial past and the war," she said.
"We need a new level of people-to-people relationship, rather than government-to-government and aid and diplomacy."
Pacific Minister Pat Conroy said the travelling delegation of PNG politicians would help deepen the relationship between the two nations.
Conroy said the forum would help Australia implement what it's promised to its Pacific neighbour, including bringing in more labour scheme workers, tackling security challenges and promoting a PNG rugby league team.
"We've just got to keep talking and talking and talking with each other and working with each other," he said.
SOURCE: AAP/PACNEWS