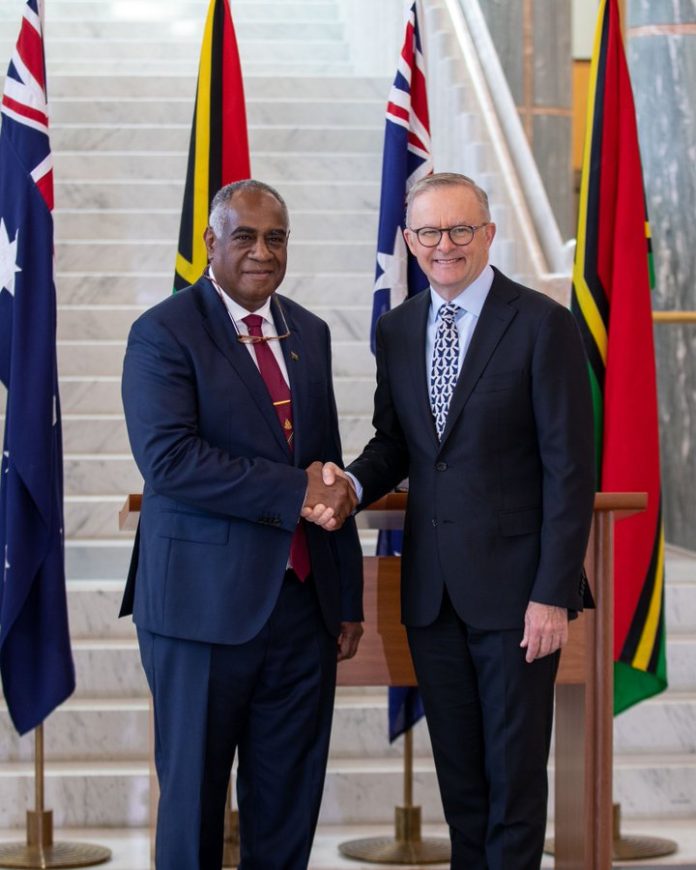 Australia will build a new national security hub for Vanuatu and beef up its economic support for the Pacific island nation's key sectors.
In a joint statement released after a meeting in Canberra, Vanuatu Prime Minister Alatoi Ishmael Kalsakau endorsed Australia's bid to host the climate forum COP31 in 2026 in partnership with Pacific nations.
Prime Minister Anthony Albanese told his counterpart during their first meeting Australia will fund the construction of Vanuatu's Council of Ministers and National Security Council Secretariats.
Albanese said the country would also boost priority sectors of Vanuatu's economy, including aviation, trade and infrastructure.
"Australia and Vanuatu are longstanding friends," he told parliament on Wednesday.
"We are partners, equal partners, guided by mutual respect and a shared commitment to a prosperous, peaceful, and resilient Pacific."
The prime minister commended Kalsakau for his "long-standing leadership in pushing for increased global action on climate change".
Both leaders committed to skills training opportunities for Vanuatu workers in Australia.
Albanese welcomed Kalsakau to Parliament House and the House of Representatives just months after signing a security deal with the country.
Kalsakau's arrival on Wednesday was greeted with a gun-salute, as he inspected the guard of honour in the parliamentary forecourt.
The Vanuatu prime minister signed the visitor book, before meeting Albanese in the cabinet room.
Kalsakau was joined by his trade, business and agriculture ministers.
Opposition Leader Peter Dutton said the close relationship with Vanuatu had strong bipartisan support.
Opposition foreign affairs spokesman Simon Birmingham said the visit would help build on the relationship with one of Australia's closest neighbours.
It is the first visit of Vanuatu's sitting prime minister since 2018.
The security agreement, signed in December, spans co-operation in areas including disaster relief, environmental and resource security, cyber security, aviation safety and law enforcement.
The meeting came as Vanuatu suspended new passports being issued for seasonal workers, according to the country's Daily Post newspaper.
Workers from Vanuatu are employed in agriculture, horticulture, hospitality and tourism and meat processing in Australia.
SOURCE: AAP/PACNEWS