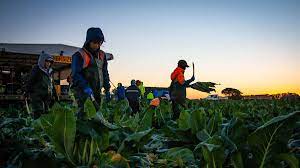 A new visa will allow up to 3,000 people from the Pacific region to migrate to Australia as permanent residents each year, under a scheme modelled on a New Zealand immigration programme.
The Pacific Engagement Visa has a two-step application process, under which applicants must first register in a ballot and pay a fee of $25(US$17).
"In the second stage, applicants selected by the ballot will be able to then apply for the visa," the government said in a statement.
Applicants will need to have a formal job offer with an employer in Australia, be aged between between 18 and 45 years, and satisfy basic English language and health and character requirements, it said.
"Applicants can include their partners and dependent children in their application," the statement said.
The government aims to have the new visa up and running by July.
"The Pacific Engagement Visa will be open to independent Pacific island countries whose nationals are not entitled to New Zealand citizenship and to Timor-Leste," the government said.
"This could include [people from]: the Federated States of Micronesia, Fiji, Kiribati, Nauru, Palau, Papua New Guinea, the Republic of the Marshall Islands, Samoa, Solomon Islands, Timor-Leste, Tonga, Tuvalu and Vanuatu."
Minister for International Development and the Pacific Pat Conroy told the ABC the visa was about creating a path for permanent migration, rather than boosting numbers of temporary workers.
"This is allocating 3,000 spots to Pacific families each year to make a new life in Australia, to deepen the Pacific diaspora in Australia and deepen our people to people links," he said.
"Those people have to have jobs in this country and they can bring their families. It is a great way of deepening our strong relationships with the region."
The bills to bring the new visa scheme about will reportedly be introduced to parliament on Thursday.
Last year, the visa scheme was announced in April as part of the then-opposition's wider commitment to increasing aid to the Pacific to counter China's rising influence in the region.
At the time it was announced, Stephen Howes from the Australian National University said the proposal was "unique" and "very significant".
"So far, all the labour mobility schemes for the Pacific have been temporary … but this is different in that it allows Pacific Islanders to move to Australia with their families and stay here," he said.
Professor Howes said the policy seemed aimed at building up Australia's Pacific diaspora, which remains very small.
"While 3,000 might not sound like a lot, those numbers will accumulate — I think you could quickly see this become more important than the temporary schemes."
The new visa overhauls Australia's standing Pacific labour mobility schemes, and effectively abolishes the Nationals' plan for a standalone agriculture visa by wrapping it into existing Pacific programmes.
SOURCE: ABC PACIFIC/PACNEWS