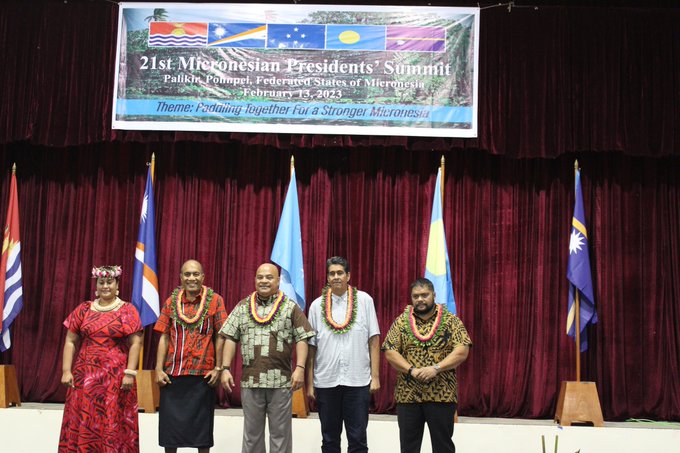 A week before Pacific Islands Forum Leaders meet in Fiji for a Special Leaders Retreat – the five Micronesian member countries have resolved major outstanding decisions from the Suva Agreement – that assured their return to the regional political body.
Meeting in the Federated States of Micronesia capital, Pohnpei, the five leaders from FSM, Kiribati, Marshall Islands, Nauru and Palau agreed that a candidate from Nauru, yet to be named, will become the next Secretary General of the Pacific Islands Forum from next year when the term of the current SG expires.
Announcing the decision, President David Panuelo of the Federated States of Micronesia (FSM) applauded the 'consensus and solidarity of Micronesian leaders – which in turn strengthens the collective security and development of the Blue Pacific continent.'
"That unity and solidarity isn't simply mere talk, it's the bedrock of our decision making process, and essential for our collective security and development as laid out in the 2050 Strategy for the Blue Pacific continent.
"The MPS was victory through humility and what might be perceived as a loss for the FSM, is in fact our greatest gain, for we have strengthened our Micronesian sub-region.
"There is enormous value, for example for our brothers and sisters in Kiribati to who walk away from a meeting such as this feeling our nation's peace, friendship and co-operation become concretised in the form of hosting the sub-regional office of the Pacific Islands Forum. It will be Kiribati's first major international office on their shores. They deserve it, said President Panuelo.
MPS endorsed Kiribati as the host of the PIF sub-regional office for the North Pacific.
They also agreed to set up the Office of the Pacific Oceans Commissioner (OPOC) in Palau. OPOC is currently based at the Forum Secretariat in Suva, headed by Henry Puna, who is also Secretary General of the Pacific Islands Forum.
On Monday, the Chair of the Pacific Islands Forum, Fiji's Prime Minister Sitiveni Rabuka addressed his counterpart from Micronesia – assuring them of the critical role they play as climate and ocean advocacy as largest custodians of the Blue Pacific Continent.
"This is the reason why your voice is so important in our regional settlements. The Blue Pacific region and the future of our Forum family is now in your hands. We are looking to you, all of you, for your leadership, said the Forum Chair.
Decisions from the MPS will be conveyed to the rest of the Pacific Islands Forum Leaders when they meet for a Special Leaders Retreat in Nadi next week.
SOURCE: PACNEWS