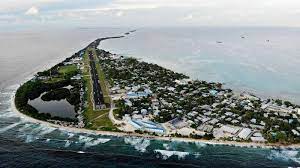 The Pacific Islands Forum Secretariat has released the Pacific Security Outlook Report 2022 -2023, highlighting key regional security issues and trends.
By comparing the challenges and projections outlined in this report, regional decision makers can then consider which issues require most attention and prioritisation, both regionally and in their own national context.
As Leaders reaffirmed when they launched the 2050 Strategy for the Blue Pacific Continent, and as this report highlights, climate change remains the region's single greatest security threat.
Gender based violence and natural disasters are other key priority focus areas, together with illegal, unreported, and unregulated fishing (IUU), cybercrime and transnational organised crime.
Secretary General of the Pacific Islands Forum, Henry Puna said 'to achieve the Forum's vision of peace, harmony, security, social inclusion and prosperity, it is important to have regional security mechanisms that help address traditional and non-traditional issues in the Pacific region.'
"We must not allow new issues to distract us from action to address the most pressing threats to the peace and security of Pacific peoples," said Puna.
The report states that the COVID-19 pandemic laid bare the Pacific's health system vulnerabilities, which are long standing, and difficult to overcome, and highlighted the importance of a continued efforts to strengthen border and health security.
SOURCE: PIFS/PACNEWS