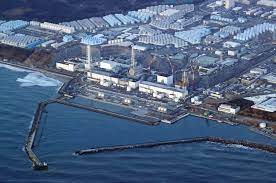 Micronesian President David Panuelo said Friday that Japan's "transparency" over its intention to release treated water from the crippled Fukushima nuclear power plant into the ocean has helped ease the Pacific island nation's concerns over the plans.
Panuelo's remarks stood in contrast to those he gave the UN General Assembly in September of his "gravest concern" regarding Tokyo's plans to dump the water containing low-level concentrations of tritium into the Pacific Ocean from the spring or summer of 2023.
Speaking at a news conference at the Japan National Press Club a day after bilateral talks with Prime Minister Fumio Kishida, Panuelo said the extensive information provided by Japan meant he trusts the country in "doing the right thing" and ensuring it "does not harm the shared asset which is our Pacific Ocean."
But he stopped short of offering full support, saying that while his government has been "satisfied" with the information provided, "this is not to say that we are stopping, we continue to consult with the government of Japan" to ensure the water "meets requirements so that it is safe."
Tokyo decided in 2021 to begin working toward releasing the vast amounts of water used to continually cool melted fuel and fuel debris created in the March 2011 nuclear disaster at the Fukushima No. 1 power plant.
As of late July 2022, some 1.3 million tons of the treated water had accumulated in storage tanks at Tokyo Electric Power Company Holding's crippled complex. Releasing all of the water is expected to take decades.
The solution has been met with opposition from countries including China and South Korea, as well as Pacific island nations. In January, the Pacific Islands Forum for countries in the region called on Japan to take more time before embarking on the release to ensure the ecosystem's safety.
The Forum's Secretary-General Henry Puna said in a meeting of experts at the Forum that the region is "steadfast in its position that there should be no discharge until all parties verify through scientific means that such a discharge is safe."
When asked whether Micronesia's change of stance had been sudden given the PIF's concerns, Panuelo said he believes the organisation is speaking to Japan, and that his country's position is "not so abrupt" as he is "satisfied with the information provided."
Panuelo's visit to Japan coincided with the 35-year anniversary of Japan-Micronesia diplomatic relations, and also comes amid increasing tensions over the Pacific islands as the United States and China vie for influence over the strategically important region.
SOURCE: KYODO NEWS/PACNEWS