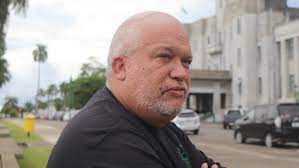 By Lice Movono
Veteran Fijian journalist Netani Rika and his wife were resting in their living room when he was suddenly woken, startled by the sound of smashed glass.
"I got up, I slipped on the wet surface," he recalled.
He turned on the lights and a bottle and wick were spread across the floor.
It was one of the many acts of violence and intimidation he endured after the 2006 military coup.
No news at 6pm, no news at 10pm
Back then, Rika was the manager of news and current affairs at Fiji Television.
He vividly remembers the time his car was smashed with golf clubs by two unknown men — one he would later identify as a member of the military — and the day he was locked up at a military camp.
"We were monitoring the situation … once the takeover happened, there was a knock at the door and we had some soldiers present themselves," he said.
"We were told they were there for our protection but our CEO at the time, Ken Clark, said 'well if you're here to protect us, then you can stand at the gate'.
"They said, 'no, we are here to be in the newsroom, and we want to see what goes to air. We also have a list of people you cannot speak to … ministers, detectives'."
Rika remembered denying their request and publishing a notice on behalf of Fiji TV News that said it would "not broadcast tonight due to censorship", promising to return to air when they were able to "broadcast the news in a manner which is free and fair".
"There was no news at six, there was no news at 10, it was a decision made by the newsroom."
Organisations like Human Rights Watch have repeatedly criticised Frank Bainimarama, who installed himself as prime minister during the 2006 coup, for his attacks on government critics, the press and the freedom of its citizens.
Fear and intimidation
Rika reported incidents of violence to Fiji police, but he said detectives told him his complaints would not go far.
"here was a series of letters to the editor which I suppose you could say were anti-government. Shortly after … the now-honourable Leader of the Opposition [Frank Bainimarama] called, he swore at me in the Fijian iTaukei language … a short time later I saw a vehicle come into our street," he said.
"The next time [the attackers] came over the fence, broke a wooden louvre and threw one [explosive] inside the house."
The ABC contacted Bainimarama's Fiji First party and Fiji police for comment, but has not received a response.
The following year, Rika left his job to become the editor-in-chief at The Fiji Times, the country's leading independent newspaper.
With the publication relying on the government's advertising to remain viable, Rika said the government put pressure on the paper's owners.
"The government took away Fiji Times's advertising, did all sorts of things in order to bring it into line with its propaganda that Fiji was OK, there was no more corruption."
Rika said the government also sought to remove the employment rights of News Limited, which ran The Fiji Times.
"The media laws were changed so that you could not have more than 5 per cent overseas ownership," Rika said.
Rika, and his deputy Sophie Foster — now an Australian national — lost their jobs after the Media Act 2011 was passed, banning foreign ownership of Fijian media organisations.
'A chilling law'
The new law put in place several regulations over journalists' work, including restrictions on reporting of government activities.
In May last year, Fijian Media Association secretary Stanley Simpson called for a review of the "harsh penalties" that can be imposed by the authority that enforces the act.
Penalties include up to $100,000 (US$50,000) in fines or two years' imprisonment for news organisations for publishing content that is considered a breach of public or national interest.
Simpson said some sections were "too excessive and designed to be vindictive and punish the media rather that encourage better reporting standards and be corrective".
Media veterans hope the controversial act will be changed, or removed entirely, to protect press freedom.
Retired journalism professor Dr David Robie taught many of the Pacific journalists who head up Fijian newsrooms today, but his recent work has focused on the impact of the Media Act.
Dr Robie said from the outset, the legislation was widely condemned by media freedom organisations around the world for being "very punitive and draconian".
"It is a chilling law, making restrictions to media and making it extremely difficult for journalists to act because … the journalists in Fiji constantly have that shadow [hanging] over them."
In the years after Fijian independence in 1970, Dr Robie said Fiji's "vigorous" media sector "was a shining light in the whole of the Pacific and in developing countries"
"That was lost … under that particular law and many of the younger journalists have never known what it is to be in a country with a truly free media."
'We're so rich in stories'
Last month, the newly-elected government said work was underway to change media laws.
"We're going to ensure [journalists] have freedom to broadcast and to impart knowledge and information to members of the public," Fiji's new Attorney-General Siromi Turaga said.
"The coalition government is going to provide a different approach, a truly democratic way of dealing with media freedom."
But Dr Robie said he believed the only way forward was to remove the Media Act altogether.
"I'm a bit sceptical about this notion that we can replace it with friendly legislation. That's sounds like a slippery slope to me," he said.
"I'd have to say that self-regulation is pretty much the best way to go."
Reporters Without Borders ranked Fiji at 102 out of 180 countries in terms of press freedom, falling by 47 places compared to its 2021 rankings.
Samantha Magick was the news director at Fiji radio station FM96, but left after the 2000 coup and returned three years ago to edit Islands Business International, a regional news magazine.
"When I came back, there wasn't the same robustness of discussion and debate, we [previously] had powerful panel programs and talkback and there wasn't a lot of that happening," she said.
"Part of that was a reflection of the legislation and its impact on the way people worked but it was often very difficult to get both sides of a story because of the way newsmakers tried to control their messaging … which I thought was really unfortunate."
Magick said less restrictive media laws might encourage journalists to push the boundaries, while mid-career reporters would be more creative and more courageous.
"I also hope it will mean more people stay in the profession because we have this enormous problem with people coming, doing a couple of years and then going … for mainly financial reasons."
She lamented the fact that "resource intensive" investigative journalism had fallen by the wayside but hoped to see "a sort of reinvigoration of the profession in general."
"We're so rich in stories … I'd love to see more collaboration across news organisations or amongst journalists and freelancers," she said.
SOURCE: ABC/PACNEWS