By Dionisia Tabureguci
Illegal fishing continues to be a challenge in Vatu-i-Ra waters, the site of Fiji's biggest conservation park.
So much so that local fish wardens are hoping they would be equipped with more patrol boats to boost monitoring and surveillance in the area, where fishing is banned and public access is restricted.
"Our surveillance and monitoring of the seas around Vatu-i-Ra only started recently," said Inisio Navuasese, headman of Nasau village as well as head of its fish warden team.
"In the last six months, we managed to apprehend four boats fishing there illegally, not only breaking the ban in place but also without a fishing license. We reported them to the Ministry of Fisheries who seized their fish and their vessels. All four were from outside our province," Navuasese said.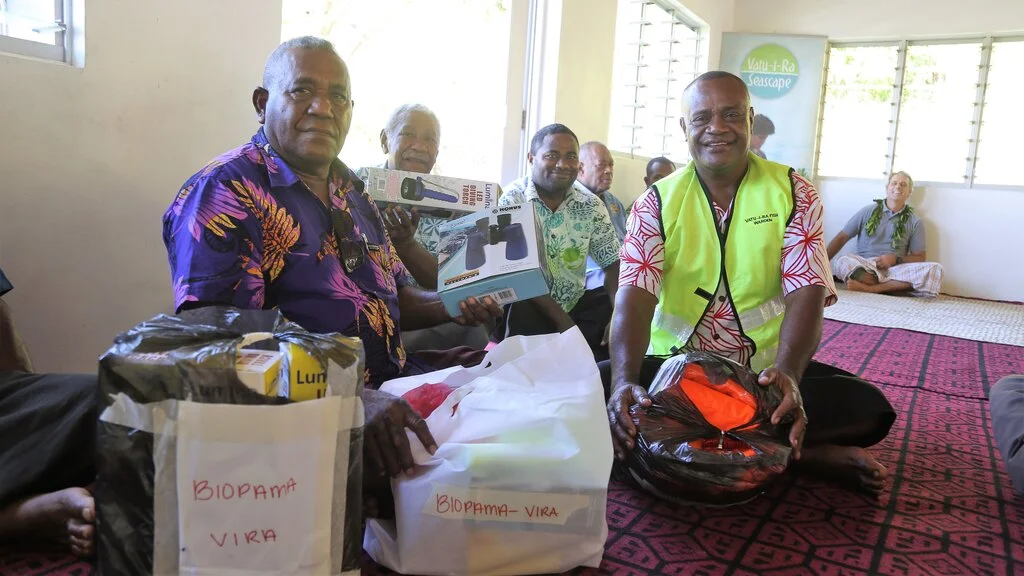 The conservation park, established by local landowning communities in 2011, encompasses an area of 110.5 square kilometers of reefs, lagoons, terraces and pinnacles as well as Vatu-i-Ra island.
Uninhabited, the 2.3 hectare island sits in a sea passage between Vanua Levu and Viti Levu, Fiji's two main islands, and is roughly 15 km from the coast of Ra province in Western Viti Levu.
Nasau, in Ra's Nakorotubu district, is the nearest village to the island and the villagers are also its traditional custodians, guardians of the island and its surrounding seas, which are also part of their traditional fishing grounds.
Although an oasis of both land and sea life and of great significance nationally and internationally, its distance from the mainland made it logistically far for local communities to monitor and is therefore vulnerable to poaching from outsiders and neighbouring districts.
In June last year, the Wildlife Conservation Society (WCS), International Union for Conservation of Nature (IUCN) and the Vatu-i-Ra Conservation Park Board of Trustees organised fish warden trainings and handed over a patroĺ boat to the park's management committee to launch the monitoring and surveillance of the park's no-take zone.
"In our latest report to the committee, we've put in a request for another boat to help boost our work because fishers in Fiji are aware of the rich fish supply in that area, since it's a breeding ground, and we know they come to try their luck, hoping not to get caught. So with another boat or one equipped with lights for night surveillance, monitoring work can be further strengthened," said Navuasese.
Vatu-i-Ra island and its waters support a rich biodiversity of land and marine life, including one of the most flourishing reef systems world-renowned for diving and is, therefore, a popular tourist attraction.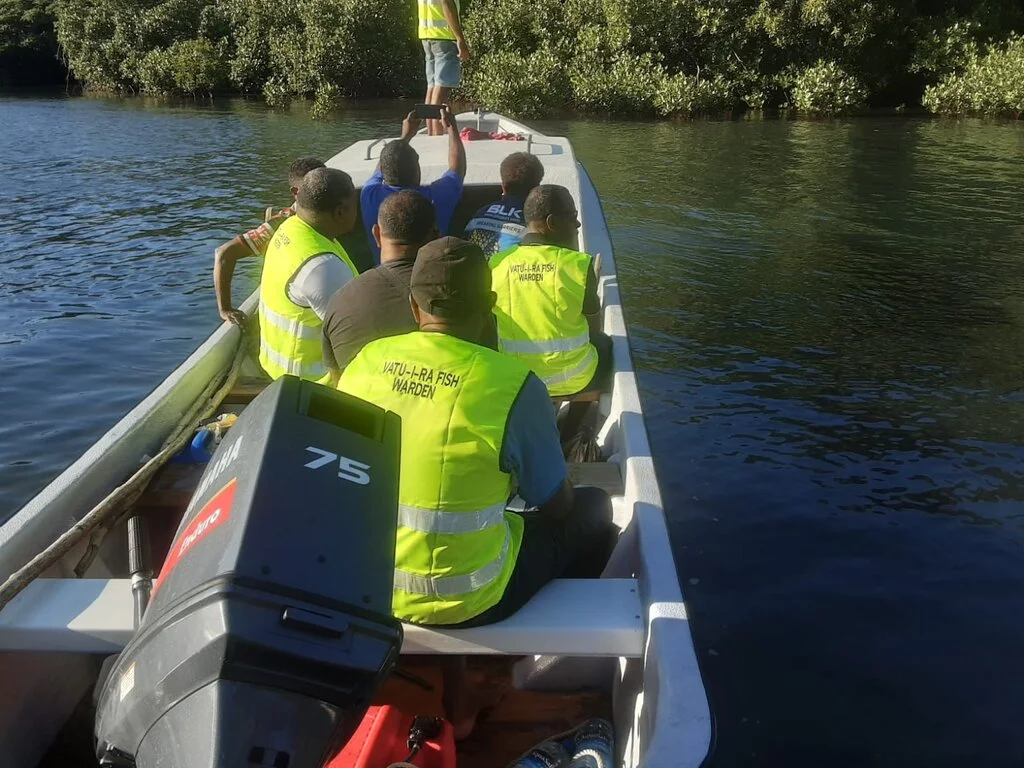 "Vatu-i-Ra Island, also known as 'Bird Island because of its large breeding colonies of seabirds, is listed as a 'Site of National Significance' in the  National Biodiversity Strategy and Action Plan 2020–2025, and is one of the 28 internationally important bird areas recognized by BirdLife International for Fiji," said WCF Fiji Country Director Paul van Nimwgen.
"BirdLife International conducted habitat and species assessments on the island in 2003 and 2004, and the results confirmed the island was an Important Bird and Biodiversity Area (IBA), due to the large number of seabird species that inhabit the island."
The island is also used by nesting hawksbill turtles (Eretmochelys imbricata) and the Fiji endemic pygmy snake-eyed skink (Cryptoblecephalus eximius), van Nimwgen said.
"The people of Nasau have seen dolphins and whales in the vicinity of the island, and divers have seen both hawksbill and green (Chelonia mydas) turtles. The main habitats within the Conservation Park are fringing coral reefs, lagoons, reef flat, pinnacles and shallow and deep terraces," he said.
The park is both a no-take marine zone and a no-take terrestrial zone, banning any extractive activities including fishing and collecting of living and non-living things.
Local communities treat the ban very seriously and are strongly opposed to any violation, especially illegal fishing.
"Because of the ban, we have a bounty of fish stock supply in our waters where we're allowed to fish, so it only makes sense to protect their breeding ground, which Vatu-i-Ra is known for. This is why we don't want any fishing in that area," said Navuasese.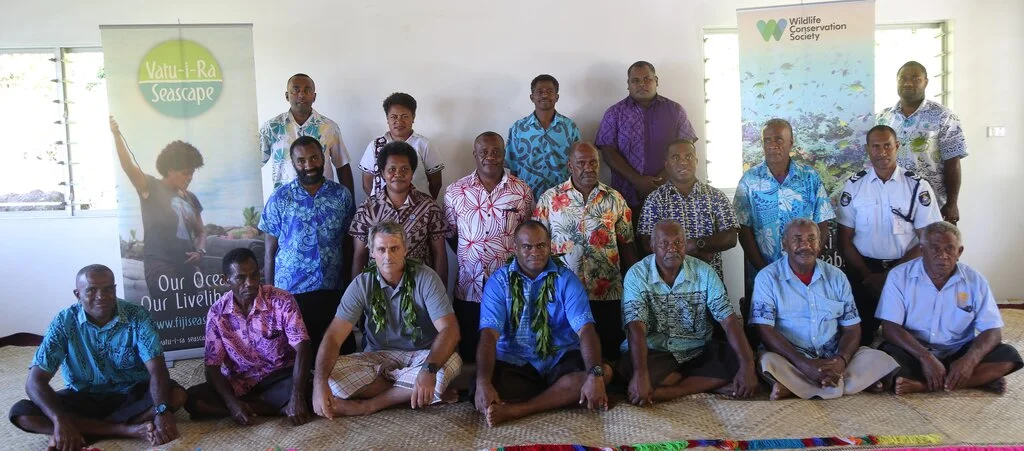 Data from an early survey supported the effectiveness of the ban.
"A survey of the reef systems around Vatu-i-Ra by WCS in 2013 documented at least 121 species of fish, 47 genera of coral, and healthy coral communities with an average hard coral cover of 39.5% inside the old tabu(ban) area (closed since 2012), 16.5% in the extended tabu area (closed since 2015), and 9.8% in areas that have remained open to fishing.
These suggest that the 4 year tabu area has been effective in protecting and maintaining healthy coral communities," said van Nimwgen.
Apart from plentiful fish supply, local communities, which comprise 47 clans within 7 districts, also benefit from a trust deed established to administer voluntary contributions from tourism operators.
Funds from the trust are used to manage the park and also goes towards an education fund for the communities.
SOURCE: PASIFIKA ENVIRONEWS/PACNEWS