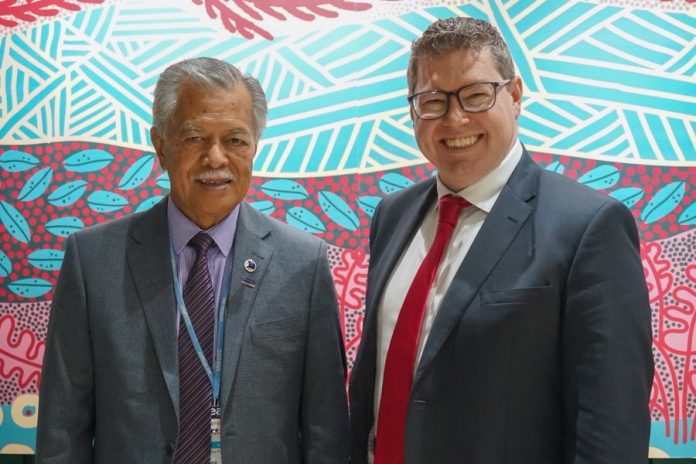 -A top Pacific leader has shrugged off Prime Minister Anthony Albanese's absence from the COP27 climate talks, saying it "would have been nice to see him there" but "we understand and we accept".
Pacific Islands Forum secretary-general Henry Puna said the 190-plus-country UN climate summit was critical to the survival of the region's small island nations, but he refused to condemn Albanese for giving the talks a miss.
Instead, he showered praise on Pacific Minister Pat Conroy and the Albanese government's reset of relations with the region.
"Australia's closeness with the region is actually very real and serious, and very refreshing," Puna told journalists during a brief appearance with Conroy at COP27 after the pair held bilateral talks.
Asked by The Australian Financial Review if he questioned Albanese's commitment following the decision not to travel to Sharm el-Sheikh, Puna said: "I'm not disappointed."
"It would have been nice. But we've got to be realistic that leaders nowadays have so many, many commitments. And even some of our own leaders are not able to be here because of national commitments. So we understand, and we accept."
Puna welcomed Australia's support for a controversial push by developing countries to get a discussion about "loss and damage" onto the COP27 agenda, which succeeded on Sunday night (Monday AEDT).
Rich countries have long shied away from this subject, fearing it will open them up to huge liabilities or demands for financial support.
"The mere fact that it's now on the agenda is huge progress. And to me, with Australia's support having that on the agenda is a marvellous first step," Puna said.
"There's a lot of work to be done. But let's get it on the table for discussions first. Let's take it one step at a time."
Conroy said the L&D discussion would take some time to work through, describing the COP27 talks as "the start of the process, not the end of it".
"I know that it's got some years to run out. And it's very important that we go through this process carefully, listening to every view in the room," he said.
"Too often people rush these things. The Pacific way is consensus, and that's obviously what we're striving to achieve."
Conroy is representing Australia at ministerial level for the first few days of the talks, with Climate Change and Energy Minister Chris Bowen taking the helm for the talks' pointy end in the second week.
The Australian public servants who handle the nitty gritty of the clause-by-clause negotiations have also changed since last year, giving the Albanese government a free hand to overhaul the Australian approach.
Conroy said he wanted to "spread the message that Australia is back, after a decade of inaction Australia is back, playing a progressive role on climate change, being part of a global solution, intent on seizing the economic opportunities, the jobs dividend, that will come from the clean energy transition".
Fortescue boss Andrew Forrest, who is at COP27, gave his backing to Albanese's proposal to host the summit in Australia in coming years.
"Australia must host COP," he said.
"We are a big supporter of the Asia-Pacific. We're a key economy. We're a wonderful economic partner to both China and North America. We should absolutely host COP and show how we can help lead the world beyond fossil fuel," he said
SOURCE: AFR/PACNEWS