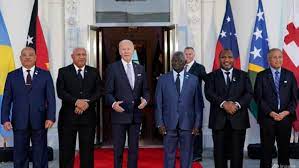 Forging a stronger presence in Papua New Guinea and other Pacific island nations has become part of the West's strategy to counter China's security push in the region.
The superpower rivalry between China and the United States, in particular, has been felt in the region in recent times.
Both sides have dangled security assistance and development aid to grow their influence in the Pacific, where climate change and food scarcity, among other things, are pressing concerns.
Dealing with the competing interests can be tough, said observers, and when there is money at stake, vested national interests often come first.
"I think the golden rule is what's best for Papua New Guinea," said its Minister for International Trade and Investment Richard Maru. "Our current foreign policies are clear. We are friends to all and enemy to none."
Last month, the U.S struck a partnership deal with the Pacific island nations, which includes a financial aid package to fund various initiatives there.
Meanwhile, Australia last week signed a pact with Fiji to allow the operation of each nation's militaries in the other country. Recent talks with various defence ministers from Papua New Guinea, Tonga, the Solomon Islands, Samoa, Timor Leste and New Zealand have highlighted the need for stronger security ties.
These come after China proposed a sweeping economic and security agreement with 10 Pacific nations earlier this year, following its signing of a security pact with the Solomon Islands in April. But the proposal was shelved after many of the countries declined to sign.
Papua New Guinea could provide a key plank for future ties.
Maru said: "I know about the competing interests of countries like China and its allies and of course America and Australia and their allies, but we will always go for what's best for Papua New Guinea."
Earlier this month, a European Union-Papua New Guinea Business, Trade and Investment Conference saw politicians, diplomats and business leaders from the European Union (EU) and several Pacific island nations developing new contacts and exploring collaboration opportunities.
Papua New Guinea has 80 per cent of trade with the European Union, said Carlos Perez Padilla, a policy coordinator of the EU delegation to Papua New Guinea. "So when we talk about the Pacific, it's clearly a key partner for us."
Many of the island nation's 9 million people live below the poverty line.
There is also widespread community unrest, with unemployment being a serious problem and some turning to crime to get by.
But there is another side to the resource-rich nation which bodes well for its future.
On the island of New Britain, young people are attending university to learn about farming, livestock, and agricultural methods to grow better quality food and adapt to the impact of climate change.
Amos Turbarat, resources manager of the outreach programme at the Papua New Guinea University of Natural Resources and Environment, said: "We deliver training to help them manage the farm. We teach them financial literacy, small-scale bookkeeping, and we teach skills in terms of identifying the various types of soil they have."
For many, it is the first step towards providing for their families and in turn, creating an economic lifeline for their community.
"People are actually finding it difficult to source suitable water, suitable food where they can eat from," said Professor Aisak G. Pue, vice chancellor of the university, noting that equipping the young with relevant skills could change the current situation.
"And so we may be seeing, in a few months' time, the effects of nutrition might start to show up and become more significant in the community," he said.
SOURCE:CHANNEL NEWS ASIA/PACNEWS