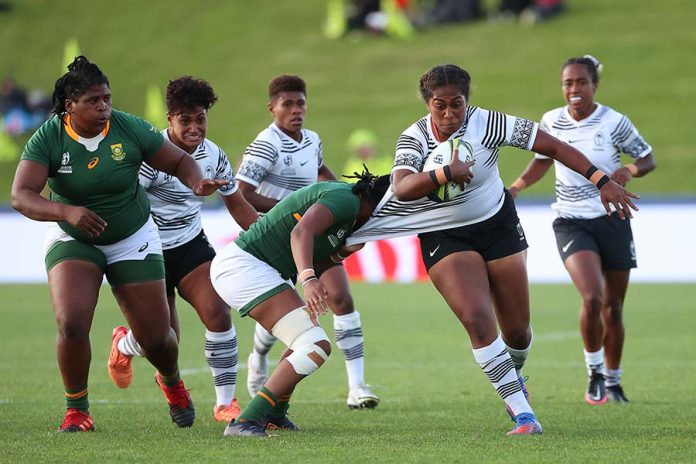 Fijiana 15's had finished 9th at the Rugby World Cup (RWC) after coming in as the newcomers and 21st-ranked team in the tournament last month.
They lost two games against number one ranked England and 4th placed France. Fijiana managed to secure their first World Cup win against South Africa and finished third in their pool with four points.
Fiji Rugby Chairman Commodore Humphrey Tawake said Fijiana's participation at the RWC has ended with a lot of learnings and potential for the future growth of Women's rugby in Fiji.
"Vinaka Vakalevu to Head Coach Senirusi Seruvakula, coaching staff, management, and the team for a great outing at their first RWC. Fijiana has finished the RWC placed 9th overall. What an achievement!" said Commodore Tawake.
Playing in its first 15s Women's RWC, our players were exposed to a professional and high-performance environment in the current modern game of rugby.Such professional requirements were new to many of our Fijiana players with the majority having just played competitive rugby in the past 3 years whilst a handful have had 3 years or more playing competitive domestic and international rugby.
He added "In essence, Fijiana has performed reasonably well in its first RWC against established and seasoned international women's rugby teams in this RWC. World Rugby and host New Zealand Rugby must be commended for organizing and hosting the delayed 2021 Women's RWC this year in such a professional and spectacular manner."
Commodore Tawake further added "The growth of women's rugby in Fiji is attributed to the many women that have played and sacrificed a lot to be recognized for over 3 decades.
Such commitments and sacrifice paved the way for formal domestic women's rugby competitions to commence in 2018. FRU continues to witness the increased participation of our girls within our domestic competition and the pathway provided within our women's rugby system in both 7s and 15s.
The learnings from the RWC in NZ will definitely add value in growing and enhancing women's rugby. In addition, providing the necessary technical support and resources required for high performance.''
As for Fiji Rugby, the road to the 10th Women's 2025 RWC in the UK has commenced.
"It's time to reflect and review our performance at the RWC in NZ and strategies for the future. An important key performance indicator is playing regular test fixtures against the top women's sides.
World Rugby must be acknowledged and commended for the support and resources committed to emerging rugby nations as Fiji into the future and in particular the 15's competition. In addition, supporting FRU's partnership with Rugby Australia for our Womens to participate in the 2023 Super W Championship" said Commodore Tawake.
"Finally, I must thank our partners and sponsors for the support provided to the Fijiana 15's leading up to the RWC. On behalf of the President FRU, Board Directors, CEO and Unions, I acknowledge and thank the Fijian Government, Australian DFAT Pacific Aus Sports, Rooster Chicken, Fiji Airways, ANZ Bank and CJ Patel for their financial support in growing women's rugby in Fiji.
The support of our partners and sponsors have allowed the Fijiana to participate and showcase our talents at the international arena" he said.
The Fijiana 15's team arrives in the country today and will be hosted at a reception organised by FRU.
SOURCE: FRU/PACNEWS