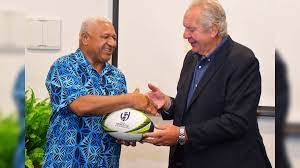 Fijian Prime Minister and Fiji Rugby Union President Voreqe Bainimarama has met with the World Rugby Chairman Sir William (Bill) Blackledge Beaumont, in Nadi.
In welcoming Sir Bill back to our shores after his last visit in 2016, Prime Minister Bainimarama conveyed the Fijian Government and the people of Fiji's appreciation to the World Rugby Chairman for his support to Fijian Rugby over the years.
The Prime Minister informed Sir Bill that rugby as part of Fiji's sports development, is an important community activator as it has direct health benefits, builds good character and essential social skills.
For this, he highlighted that the Fijian Government has allocated $77 million (US$38.5 million) over the last decade to help lift the profile of Fijian sports both in Fiji and internationally.
Discussions at the meeting also focused on important areas of collaboration between Fiji and World Rugby and also ways to further strengthen Fiji's rugby development.
The Prime Minister took the opportunity to personally thank Sir Bill for his commitment and leadership during his tenure as Chairman of World Rugby and more recently for the relief funding grant that supported Fiji Rugby during the COVID-19.
Commenting on our Fiji 7s rugby, the Prime Minister highlighted that the support from World Rugby has translated to many wins for Fiji, the recent being our men's team successfully bringing home the Melrose Cup last month.
To allow for sustainable growth, the Prime Minister also requested World Rugby for its support towards our 7s teams, both men and women's side as well as our 15s rugby teams and our Fijian Drua side.
Whilst delving into the development of Fijian Drua, he added that the Fijian Government firmly believes that the franchise has a bright future ahead of it.
The Fijian Government has recently secured 51 percent with an initial $3.0 million (US$1.5 million) invested in April this year, while another $3.0 million (US$1.5 million) is in the pipeline, raising a total committed investment to $6.0 million (US$3 million).
Other discussions were also centered on the union classification and Fiji's seat at the World Rugby Council.
On this issue, the Prime Minister remarked that Fiji is committed to continuing to earn its place at the Council as we firmly believe having a second seat will strengthen our voice at the Council and help take Fijian rugby to the next level.
Fiji also looks forward to more partnerships with World Rugby particularly in infrastructure projects such as Stadiums and High-Performance Excellence Centre.
Sir Bill, in his response, acknowledged the outstanding contribution Fiji has made towards the World Rugby, highlighting Fiji's back-to-back Olympics and the recent Melrose Cup win in Capetown to name a few. He also congratulated the Women's 15's rugby team and acknowledged Fiji's commitment towards the development of women's rugby in Fiji.
SOURCE: FIJI GOVT/PACNEWS