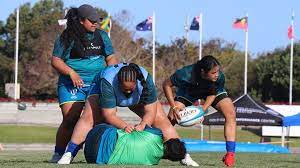 Oceania Rugby was joined by its 17 member unions to celebrate its third women in rugby month in September.
The regional body held a month of events, themed 'Right Here, Right Now!' to showcase and celebrate the events and people driving female development in rugby throughout Oceania in the lead up to Rugby World Cup 2021.
Oceania Rugby Right Here, Right Now! came at a time when the region is at the forefront of that development.
Not only will RWC 2021 take place in New Zealand from 08 October – 05 November, but women's teams from Oceania crowded podiums during the HSBC World Rugby Sevens Series, Commonwealth Games and Rugby World Cup Sevens 2022.
On top of all that success, the Oceania Rugby Women's Championship returned for the first time since 2019, taking place over nine days in Auckland in July.
During September, Oceania Rugby held a world's first Women's Combine, showcasing 20 of the best players from Papua New Guinea, Samoa and Tonga to Super W coaches on Australia's Gold Coast.
"It's been so empowering," Tonga fly-half Shonte To'a told World Rugby about the Combine.
"Seeing my Pacific people being given the opportunity to represent their story, represent their home, represent their cultures and their beliefs, and to be the pillar of their family, to represent here in this combine.
"I think being surrounded [by that] in this environment is so empowering as a female athlete."
World Rugby Women's High-Performance Manager Nicky Ponsford was in Gold Coast for the Combine, and also took part in one of three webinars that Oceania Rugby put on as part of the month of events.
The webinars focused on 'Challenging Inequality and Influencing Change', 'Leadership on and off the Field' and 'Right Here, Right Now and Beyond', and featured guest speakers from the regional body and member unions.
One of those was former Wallaroos prop Vanessa Bradley, who has recently undertaken a research project to recognise and present caps to all of the women who represented Queensland on the rugby pitch.
When talking to Oceania Rugby, Bradley revealed it was her hope that one day people would no longer ask themselves "is that women's rugby or men's rugby?"
"My vision for women in rugby is that there's not necessarily the stipulation that we're women in rugby," she said.
"We'll always be proud to be women that play rugby and there will always be times where women's rugby has different needs and challenges to men's rugby, but [my great hope is that] the first thought of anyone is that it's just rugby.".
SOURCE: WORLD RUGBY/PACNEWS