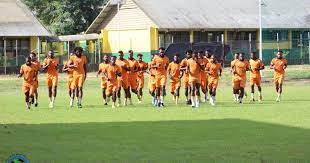 The Vanuatu National team will play its first match in the MSG Prime Minister's Cup tournament against the Vanuatu Development Team 3pm, this afternoon at the Korman soccer stadium.
Both teams are drawn in pool A and both will work hard on making it into the second stage.
This will be the team's first ever competition since the COVID-19 lockdown. Team Vanuatu was disqualified at the recent OFC world cup qualifiers due to majority of players testing positive for COVID-19.
Team Vanuatu led by Coach Etienne Mermer will work hard in grabbing a win in their first match of the tournament. Called up for the tournament are Mitch Cooper, Jeffrey Tasso, Jesse Kalopong, Azariah Soromon, Ronaldo Wilkins and John Alick. Vanuatu's captain, Brian Kaltak couldn't make it for the games.
The Vanuatu Development Team must work hard in to grab a win to secure a spot in the final four after losing a tough match against Papua New Guinea in its first match debut last weekend.
Despite challenges in their first game, the Vanuatu Development Team will work hard in making it into the second stage after a determined performance made last weekend.
The second match between Solomon Islands and New Caledonia will take place at 6pm. This will be Solomon Islands first game in the tournament.
New Caledonia who has displayed a great game last weekend will be determined in grabbing a win in keeping its hope up into the next stage after losing against Fiji.
Solomon Islands who played New Zealand in the OFC world cup qualifiers grand final, will focus on grabbing a win against a tough New Caledonia side this evening
SOURCE: VANUATU DAILY POST/PACNEWS