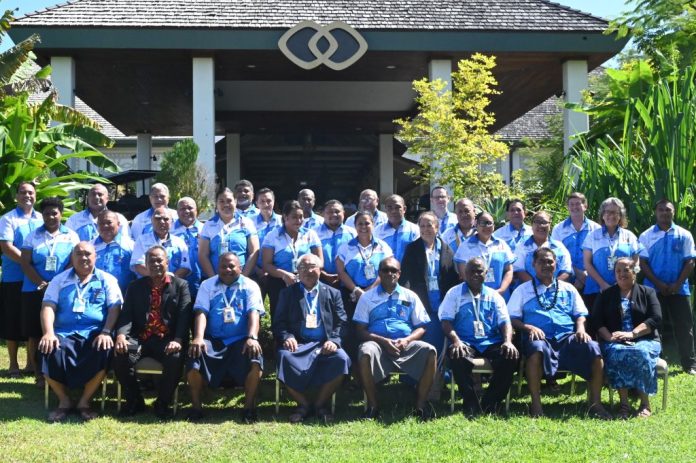 Pacific Disaster Ministers have committed to the inaugural Pacific Disaster Risk Reduction Declaration of Commitment to Action towards a safer and more resilient region in the face of disaster risk and climate change.
Ministers have also committed to supporting the strengthening of national and regional capabilities in response to disaster and reaffirmed the commitment to establish a regional and Sub-Regional Humanitarian and Disaster Response mechanism to support trans-boundary response between countries alongside international partners. This mechanism will be co-developed by the end of 2023.
Ministers also sounded the call to international, regional, national partners and donors to support nationally led disaster priorities that drive relevant, timely and sustainable disaster preparedness, response, recovery and including predictable financing.
The 'Nadi Declaration,' was endorsed by representatives from 17 Pacific Countries and Territories Friday.
Areas of priority discussed throughout the inaugural Disaster Ministerial included the need for early warning systems to reach every community, the need for predictable financing to support and build resilience to the disasters faced by the region and the need for improved data sharing and analysis to better inform decision-makers of the underlying risks and vulnerabilities faced by countries.
Ministers also committed to ensuring inclusive and diverse engagement including youth, women, persons with disability and vulnerable groups to ensure disaster preparedness, response and recovery actions are responsive to the needs of all.
The Declaration also committed to the continuation of the Pacific Disaster Risk Management Ministers Meeting.
Chair and Fiji's Minister for Rural and Maritime Development and Disaster Management Inia Seruiratu commended the Pacific Ministers contributions during the course of the two-day Ministerial Meeting, stating that the Declaration was a statement of "strong commitments to action" by Pacific leaders to raise the bar for resilience building in the Pacific, given the escalating risks facing the region.
"This is a truly historical moment and a life affirming one as well. I address you today to express my delight at the outcomes of this meeting. As Minister responsible for Disasters, I am grateful
that we were able to share Pacific regional perspectives to help raise awareness of our Pacific-to-Pacific exchanges in response to disasters and in DRR in the region," Seruiratu said.
The Pacific Community's (SPC) Director Disaster and Community Resilience Programme Rhonda Robinson thanked the Fiji Government for their hosting of this meeting and noted the importance of collaborative approaches that will make our communities safer.
"We have just witnessed a paradigm shift in the leadership of Ministers towards the building of a safer and more resilient Pacific region for communities and our peoples. As the lead technical and scientific agency in disaster risk management and convener of this meeting, the Pacific Community (SPC) commends all Pacific Disaster Ministers on their genuine commitment to action that will help ensure our region is safer and more prepared for the risk we face to disaster and the existential threat caused by climate change," she said.
Pacific Islands Forum Secretariat's Deputy Secretary-General Dr Filimon Manoni said, "These regional and collective discussions on Disaster Risk Reduction have shown the importance of solidarity and adopting a collaborative approach on how we as a Pacific family find solutions to strengthening our resilience from the impacts of disasters. PIFS will continue to support the political dialogue and meaningful collaboration with our partners – to drive actions so our Blue Pacific is better prepared."
The Nadi Declaration will be presented by Pacific DRR Ministers at the Asia-Pacific Ministerial Conference on Disaster Risk Reduction that will be held in Brisbane, Australia this week and will guide the actions of the region in disaster resilience in the coming year.
SOURCE: FIJI GOVT/PACNEWS