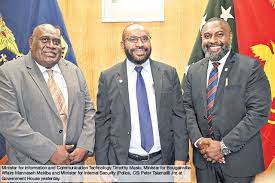 The Papua New Guinea Government will be looking at amending the law to include more ministerial positions, Prime Minister James Marape says.
Marape made this statement after the swearing in of the new Minister for Bougainville Affairs Mannaseh Makiba and 12 vice-ministers which included Rai Coast MP Kessy Sawang, one of only two women in the 118-seat Parliament, at Government House Wednesday.
"The 33 ministerial seats were done based on the calculation or break up from when the National Parliament only had 111 seats, with the increase to 118 seats, we will be looking at making amendments to include a few more ministerial seats," he said.
Marape also congratulated the 12 new vice-ministers saying that they would be assigned ministerial portfolios by the end of the week.
"In 2007, I was first sworn in as a vice-minister and now 12 years later, I come here as prime minister to witness the swearing in of vice ministers for my Cabinet," he said.
"As you can see, most of these vice-ministers are young and new, I believe in building the next lot of leaders that will continue from where we leave.
"And one day, just like me, one of them may become the Prime Minister of this country."
He said MPs were all seen as qualified leaders regardless of whether they were male or female.
"We stand here as equals, leaders, representatives of our people with one mission and that is to build our nation," he said. He said main focus was on economic and internal security matters.
SOURCE: THE NATIONAL/PACNEWS