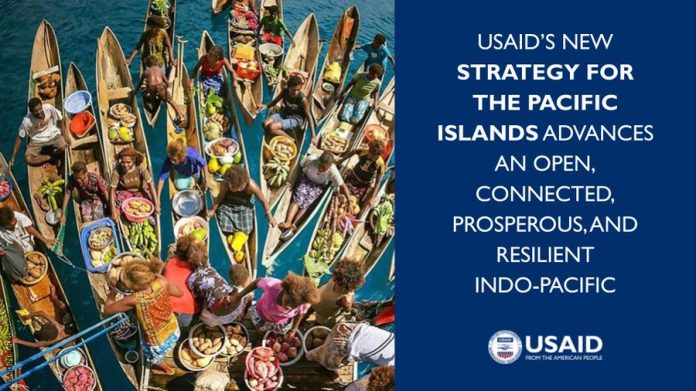 The United States Agency for International Development (USAID) today announced its five-year (2022-2027) Pacific Islands Strategic Framework that will guide the Agency's work in 12 Pacific Island countries.
The strategy supports the U.S government's goal to promote a free and open, connected, prosperous, resilient, and secure Indo-Pacific.
In partnership with government, civil society, and the private sector in 12 Pacific Island countries – Federated States of Micronesia, Fiji, Kiribati, Nauru, Palau, Papua New Guinea, Republic of the Marshall Islands, Samoa, Solomon Islands, Tonga, Tuvalu, and Vanuatu, USAID will implement activities designed to advance a more democratic, prosperous, and resilient Pacific Islands region.
Hosting a vast proportion of the world's shipping and global fisheries, Pacific waters supply food and income to millions of people in the Pacific Islands and beyond. Yet, the region is extremely vulnerable to the impacts of climate change and natural disasters. Through the five-year strategy, USAID envisions a more resilient region that can better respond and adapt to climate and disaster impacts, pandemics, and economic shocks, with strong political systems that champion democratic values, good governance, human rights, and promote equity and inclusion for all Pacific Islanders.
"As a Pacific nation, the United States shares a longstanding relationship with the Pacific Islands, underpinned by our long history of partnership, enduring people-to-people links, shared democratic values, and strong commitment to peace and stability," said Betty Chung, Acting Mission Director for USAID Philippines, Pacific Islands and Mongolia. "USAID looks forward to continuing our close collaboration with Pacific Island countries in addressing unique and shared development challenges."
The launch of USAID's Pacific Islands Strategic Framework came on the heels of Vice President Kamala Harris' participation in the Pacific Islands Forum on 12 July, 2022 where she announced new commitments to deepen U.S partnership with the region and to deliver concrete results for Pacific people.
USAID has worked with Pacific Island countries and local organisations to achieve shared development goals, investing more than US$508 million for the past 10 years (2012-2021). In response to COVID-19 alone, USAID has provided more than US$57 million to help the egion respond to and manage the negative effects of the pandemic.
SOURCE: US EMBASSY/PACNEWS