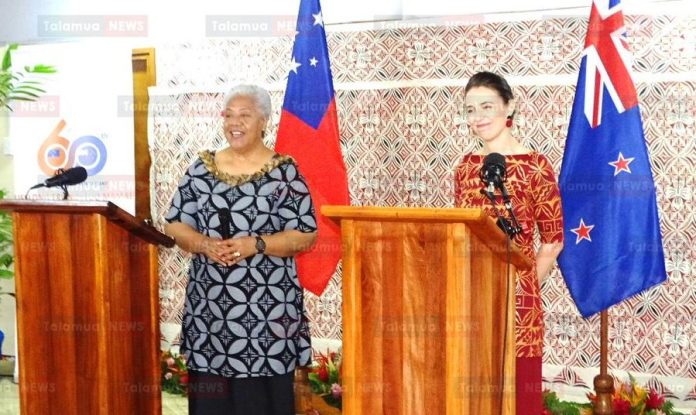 New Zealand's Prime Minister, Jacinda Ardern avoided a direct response to the question of any steps to make travel easier for Samoans to New Zealand in the future.
She was asked during a joint press conference Tuesday with her Samoan counterpart, Prime Minister Fiame Naomi Mataafa of what New Zealand was offering Samoa to mark the 60th anniversary of the Treaty of Friendship.
Ardern however referred to particular areas where New Zealand is committed to doing additional work this year such as making travel for diplomats and politicians easier.
"We do think the movement of diplomats and politicians in particular should be easier into New Zealand and we are working on making that movement much simpler," she said.
She also referred to the concerns raised by Samoa about losing skilled workers to the Recognised Seasonal Employment (RSE), and that New Zealand is committed to work on this scheme.
"Samoa has raised concern around the loss of skills so lets' work together to make sure it continues to be richly beneficial for both countries," she said.
The Prime Minister led a delegation to celebrate the 60 years of the Treaty of Friendship that shapes the relationship between the two countries and currently allows 1,100 Samoans a year for residency in New Zealand.
Samoa is the only country such a treaty exists with New Zealand that was signed at Vailima by Samoa's first Prime Minister, Mataafa Fiame Faumuina Mulinuu 11 and the New Zealand High Commissioner, J. B. Wright on 01 August 1962.
Despite the close relationship, challenges remain for Samoans having to obtain a visa for travel to New Zealand and making travel easier had been raised by Samoans on social media in the lead up to the celebration of the Treaty's 60th anniversary.
Applying for visas had been complicated by the shift to online applications during the Covid lockdowns directly affecting Samoans without access to apply online.
Ardern however said New Zealand is committed to work together on the challenges faced.
"We have dealt with some areas under the auspicious Treaty of Friendship, but I think the most important thing throughout our friendship is that it won't be underpinned by individual projects but by the fact that we commit to work together collaboratively with one another on the challenges that we face," said Adern.
"We both respect and appreciate contribution that each makes to each other which is significant to the partnership," she said.
She also mentioned the contribution of the Samoan community in New Zealand who have contributed much to New Zealand's education and health system, Non-Government Organisations, religious community, civil society and every walk of life.
"So for us, it is what we can do to continue working together in the spirit of that partnership and relationship."
After their bilateral talks, the two Prime Ministers confirmed New Zealand's commitment to two additional projects to mark the friendship commitment.
One is the re-development of the waterfront Flea Market at Savalalo that was destroyed by fire in 2016.
She said such development is an economic comfort for small businesses.
The other is climate resilience adaptation and renewable energy project in Samoa.
The two Governments will work together on these projects at a starting cost of NZ$15 million (US$9.3 million).
Prime Minister Ardern and her delegation left for New Zealand Tuesday.
SOURCE: TALAMUA ONLINE/PACNEWS