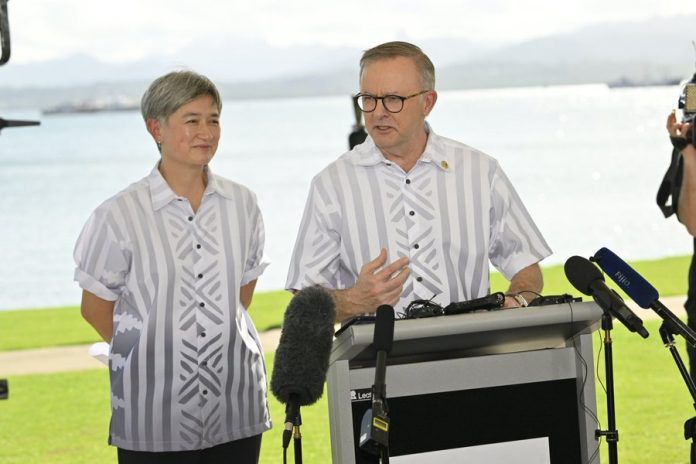 By Pita Ligaiula
Australian Prime Minister Anthony Albanese has reassured Pacific nations that his government support in the region does not come with strings attached.
Albanese in an interview with Journalists, on the sidelines of the Pacific Islands Forum Leaders Meeting said it was important to engage in a respectful way.
"We live in a period whereby we have strategic competition in this region. And that's part of the backdrop of this conference. Australia looks forward to engaging in a positive and constructive way.
"We respect the sovereignty of nations in the Pacific. We want to engage with them in a respectful way going forward.
"Our support for this region does not come with strings attached. It comes because we understand that we have a responsibility as an advanced economy in the region to provide support to our Pacific Island neighbours and that indeed that is in Australia's interest for that to occur," PM Albanese told journalists in Fiji's capital Suva.
He also praised Fijian Prime Minister and Chair of the Forum, Voreqe Bainimarama in putting together a Suva agreement to try to make sure the Pacific Islands Forum held together and in a constructive way.
"We will continue to reach out and continue to engage and I'm very hopeful that we can bring Kiribati back on board.
"It is in their interests, like it's in the interests of all the nations of the Pacific Island Forum, to have cooperation and have a vehicle whereby we have the dialogue and get the cooperation that is needed to advance the interests of the whole region," PM Albanese emphasised.
Albanese also said his government plans to expand engagement of Pacific labour in Australia.
"We also want of course to expand engagement with Pacific labour in our own country – whether that be permanent migration, a specific programme aimed for the first time at the Pacific, or whether it be temporary labour. This can be an important way in which we not only have people-to-people relations, but we benefit both the economies of Australia and the countries of origin of people either visiting or permanently migrating to Australia," he said.
PM Anthony Albanese today also voiced in-principle support for the Vanuatu government led campaign for an advisory opinion on the human rights impacts of climate change at the International Court of Justice (ICJ).
It is shaping up to be one of the key themes around PIF, as well as having broad, far-ranging implications for bringing human rights and climate change together beyond this moment and this region.
"We have some real challenges in this region.
"There's no challenge more important than climate change. And the new Australian government of course has adopted our nationally determined contribution of 43 percent by 2030. But we also have engagement with the region, including increased funding and support for climate change infrastructure."
"The dominant issue in the discussions I had with Pacific leaders in the lead up to the PIF was overwhelmingly climate change. And one of the things that has occurred is Australia's position, just like it's been welcomed in North America, Europe, and Asia, has been very much welcomed in the Pacific. A changed position, when it comes to climate change," Albanese told Journalists in Suva.
Vishal Prasad, Pacific Islands Students Fighting Climate Change campaigner, said:
"For Australia, endorsing the campaign for an ICJ advisory opinion would demonstrate the country is serious about rebuilding its relationship with its Pacific family, and in combating the devastating impacts of climate change.
"We welcome the initial support being voiced by Prime Minister Albanese, but more must be done. Australia must officially endorse the ICJ advisory opinion as part of the Pacific Islands Forum's broader leadership outcomes, and commit to helping champion the campaign all the way to the UN General Assembly.
"Supporting the campaign for an ICJ advisory opinion will cost Australia nothing, but mean everything to the Pacific. This is an idea whose time has come. Leaders must now step up to champion the campaign."
Steph Hodgins-May, Greenpeace Australia Pacific senior campaigner, said:
"Anthony Albanese's in-principle support for an advisory opinion on climate change from the ICJ is welcome, but Australia must go further and offer a firm endorsement at the Pacific Islands Forum.
"To truly demonstrate the country is serious about both tackling the climate crisis, and strengthening its relationship with the Pacific, Australia must offer full-throated support for an ICJ advisory opinion on climate change while also pursuing more ambitious climate action by committing to no new coal and gas projects.
"Prime Minister Albanese said he is committed to listening to the Pacific and we hope he hears the call for climate justice loud and clear."
Rose Kulak, Amnesty International Australia campaigner, said:
"By giving in principle support, Prime Minister Albanese has laid the pathway for Australia to be a global leader in creating positive momentum for the upcoming vote in the UN General Assembly.
"A majority vote is needed at the UN before the ICJ can provide its advisory opinion on the human rights impact of climate change. We need Australia to champion this on the world stage."
Lavetanalagi Seru, Regional Policy Coordinator, Pacific Islands Climate Action Network, said:
"Australia signalling, in principle, support for the Vanuatu's ICJAO campaign is headway but as the latest IPCC reports states, the window of action is narrowing and more needs to be done to protect the lives of those living in vulnerable communities.
"If Australia is serious about strengthening its relationship with the Pacific, then PM Albanese must support the campaign for an advisory opinion and commit to joining the voyage to the UN General Assembly
"The message from Pacific youth, frontline communities and civil society is clear, the climate crisis is a human rights crisis and must be treated with urgency," he said.
SOURCE: PACNEWS