By Pita Ligaiula in Lisbon, Portugal
Chair of the Pacific Parliamentarians Alliance on Deep Sea Mining (PPADSM)has called on Pacific nations of Nauru, Cook Islands, Kiribati and the Kingdom of Tonga to follow the lead of Tuvalu and abandon their plans for deep-sea mining in their territorial waters.
Vanuatu Opposition leader, Ralph Regenvanu made the plea in his virtual address at the UN Ocean Conference in Lisbon side event: Reviewing our common heritage and responsibility in light of climate crisis and dangers of deep-sea mining.
He praised Fiji's leadership in being the first Pacific Island state to declare a ban on deep-sea mining within its national jurisdiction.
"My own position as a Vanuatu parliamentarian is to heed the united call of our citizens calling for an outright ban on deep-sea mining in my country also. It is also the reason why I am pleased today to be part of the Pacific Parliamentarian Alliance on deep-sea mining. Our key priority remains to build solidarity within the region and to link it with global networks.
"We aim to encourage our fellow Pacific states that have indicated an interest in pursuing deep-sea mining to stop, and to join us in taking a precautionary approach as a region, and as a world. I appeal to the Republic of Nauru, the Cook Islands, the Republic of Kiribati and the Kingdom of Tonga to follow the lead of Tuvalu and to draw back from the brink.
Worse still, deep-sea mining will disturb the largest and most stable carbon sink we have, and in the event that mining accidentality hits a methane seep on the ocean floor, scientists warn of 'doomsday climatic scenarios," Regenvanu said in his address at the side event.
He said today the world are at the edge of a great abyss, a critical juncture in human endeavour, a time of complex and interlinked crises – the climate crisis, the biodiversity crisis, the pandemic, and the economic crisis strangling our countries under the weight of debt.
"These interlinked crises are crises of our own making, a spectacular failure of the dominant value system that underpins our economic structures. Yet stories of mountains of gold persist, and now we witness another wave of greed to exploit the ocean floor for minerals, backed by a false narrative claiming that these minerals are necessary for a green climate transition
"So how do we as a species deal with this planetary unconsciousness? In this age of wealth and accumulation and endless growth, unfortunately, we are again approaching this with greed. Human greed is a basic tenet of the human endeavor: it fuels our imaginations and takes us to places we have never been before," he said.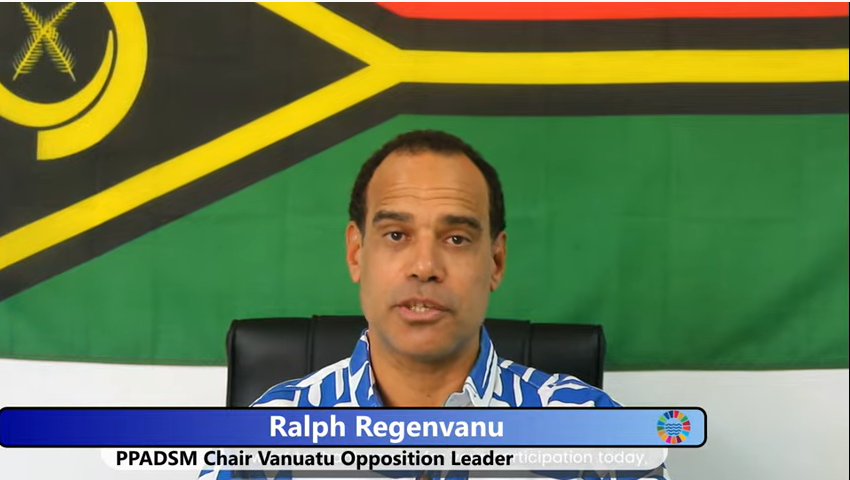 The Global Parliamentary Declaration was also launched at the event calling for a Moratorium on Deep Seabed Mining.
Covering more than 70% of the Earth and representing 95% of the biosphere, the ocean is home to unique biodiversity, is a key ally in the fight against climate change and provides cultural value to communities across the globe.
Parliamentary Ocean champion and Member of the European Parliament for France, Marie Toussaint said "With this Declaration, we urge States from all around the world to act to protect the deep sea before it is too late and support a moratorium on deep-sea mining. If the International Seabed Authority does release mining regulations by the summer 2023 and start issuing exploitation permits, this would open the floodgates, making it possible for companies and States to start developing a new large-scale mining industry… under the sea.
"To give an example, France has already obtained two ISA exploration permits in the Pacific and intends to exploit the 9.5 million km2 of deep-sea in its Exclusive Economic Zone. As the world is facing the impacts of climate change, massive pollution, and ecocides, the international community must put an end to this irrational race," she said.
Senator Sabina Flores Perez of Guam said Science has revealed that the health of our oceans is under unprecedented threat from a multitude of human-induced stressors such as overfishing, pollution, plastics, nuclear waste, biodiversity loss, and climate change and its impacts.
"The potential release of sequestered methane and carbon on the ocean floor due to DSM activities, and potential undermining of the oceans' climate regulation functions are particularly concerning," she said
Chile is the latest country calling for a 15-year moratorium on deep-sea mining.
SOURCE: PACNEWS