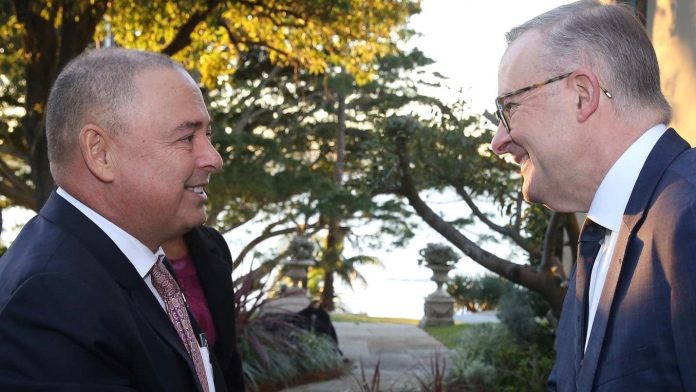 It has been a very busy time since my last column, with a lot going on, so for this week I thought I would try and fill you in on some of the highlights, writes Cook Islands Prime Minister Mark Brown.
Kia Orana,
Monday, I was in Sydney, but last weekend I had just landed in Fiji, where I spent several days before travelling to Perth in Western Australia.
First on our agenda for Fiji was a meeting with Director-General Dr Manu Tupou-Roosen of the Pacific Islands Forum Fisheries Agency.
Together we signed a Memorandum of Understanding for the use of two King Air aircraft to monitor our Cook Islands waters by air. These aircraft will be made available to the Cook Islands to undertake targeted fisheries surveillance missions, complementing the presence of the new Cook Islands Police Service patrol boat Te Kukupa II, which will be arriving on our shores soon.
As well as helping us strengthen the management of our fisheries sector, these aircraft will also provide broader benefits by assisting in our surveillance efforts across other areas of importance, including customs, immigration and transnational crime, ultimately allowing us to better protect our Marae Moana for the good of all Cook Islanders.
Also in Fiji last week, I attended the historic opening of our first ever Cook Islands High Commission there – a landmark achievement in our 24 years of diplomatic relations with Fiji.
I was honoured to officially open the new High Commission alongside Fiji Prime Minister Frank Bainimarama in Suva, with this event marking an important next step in our relationship of unity and cooperation with our Pacific friends and neighbours in Fiji.
Later, Prime Minister Bainimarama and I exchanged gifts signifying the friendship between our two countries – a toki skilfully carved by our master carver Noo Ngametua in return for a tanoa, a traditional kava bowl.
After a few days in Fiji, I then travelled to Perth in Western Australia to attend the handover ceremony for our new police patrol boat, Te Kukupa II.
This Guardian-class patrol boat replaces our original Pacific-class patrol boat Te Kukupa, which was gifted to the Cook Islands by Australia 33 years ago under the leadership of their former prime minister, the late Bob Hawke.
Te Kukupa I has served us faithfully all that time, helping monitor and protect our Marae Moana, as well as carrying out a variety of special missions over the years, most recently including the delivery of Covid-19 vaccine doses to the northern group last year.
Now those duties and more will be passed along to Te Kukupa II and her crew, and I know that this new vessel and those who sail her will be a great asset to our nation in the years to come.
In line with the new capabilities and operational reach of Te Kukupa II, our Police Maritime Division has been strengthening its own capacity, with crew members now increased from 13 to 25 and in-country training conducted in Rarotonga to bring everyone's skill levels up to the required standard.
The assistance and support that the Government of Australia, the Royal Australian Navy and the Australian Federal Police has given to our Cook Islands Police Service has been greatly appreciated over the years, and our partnership with them is particularly strong and close.
The past 30-plus years of cooperative relations between Australia, ourselves and the other Pacific nations involved in the Patrol Boat Programme has cemented those ties, which will no doubt continue to be strengthened in the years ahead.
Finally, on my Australian trip, just yesterday I was able to meet with the new Australian Prime Minister Anthony Albanese in Sydney for discussions on the importance of maintaining unity in the Pacific.
I have to say I was very encouraged by his commitment to tackling the serious climate-change issues affecting Pacific countries like ours, and I look forward to meeting with Prime Minister Albanese again at the Pacific Islands Forum leaders' meeting next month.
Lastly for this week's column – but certainly by no means least – I would like to let you all know that I have now officially tendered my advice to our Queen's Representative Sir Tom Marsters to call for 01August as the appointed date for our general election this year.
I'm pleased that the QR has now dissolved Parliament and we can all turn our attention to the campaign ahead. Now is the time for us to work together for the betterment of our nation.
May God continue to bless us all.
Kia Manuia.
SOURCE: COOK ISLANDS NEWS/PACNEWS