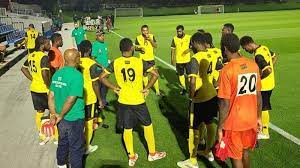 Vanuatu have pulled out of Oceania's qualification tournament for the World Cup finals in Qatar due to a majority of their players and staff testing positive for Covid-19, the country's football federation (VFF) said.
In addition, the Cooks Islands' second game has been postponed due to covid positive cases in their squad.
Vanuatu's first match of the tournament against Tahiti was postponed due to a number of positive Covid-19 cases in their camp. Vanuatu were then scheduled to play Solomon Islands tomorrow morning.
Oceania is staging a mini-tournament in Doha to decide which team advance to an intercontinental playoff against the fourth-best team from North America, Central America and the Caribbean for a place at the finals.
"Vanuatu's next match day is in the next two days, and VFF do not have sufficient time to replace the players and officials … The current circumstances are beyond their control," the country's governing body said in a statement.
"Under the Ministry of Public Health regulations for the State of Qatar Healthcare Protocol, the positive cases must isolate for a minimum period of seven days.
"The VFF Executive Committee is seeking the assistance of the OFC and FIFA if there is the possibility to waive the disciplinary sanctions regarding the withdrawal of the team."
Meanwhile, the Oceania Football Confederation can confirm that due to a number of positive cases of COVID-19 in the Vanuatu and Cook Islands squads, Match Day 3 of the FIFA World Cup Qatar 2022 Oceania Qualifiers will not go ahead.
As a result of the vast majority of the squad testing positive to COVID-19, Vanuatu have informed FIFA of their withdrawal from the tournament.
In addition to the Vanuatu withdrawal there are a number of Cook Islands players who have tested positive to COVID-19 and they cannot field a team on Match Day 3.
Cook Islands had been scheduled to play Tahiti on March 20 and Vanuatu had been schedule to play the Solomon Islands on 20 March.
The Vanuatu decision follows tests conducted on17 March, 2022 that revealed positive cases of COVID-19 in the majority of Vanuatu's team, ahead of their match against Tahiti in Doha.
In line with the applicable protocol and given the seven-day quarantine requirement, the Vanuatu Football Federation has confirmed to FIFA that it's not in a position to play its upcoming FIFA World Cup qualification matches.
FIFA has forwarded the relevant details to its Disciplinary Committee. Until further notice, Vanuatu's FIFA World Cup qualification matches are deemed to be abandoned.
In matches that have been played the Solomon Islands defeated the Cook Islands 2-0, New Zealand beat Papua New Guinea 1-0 and Fiji overcame New Caledonia 2-1.
SOURCE: RNZ PACIFIC/OFC/PACNEWS