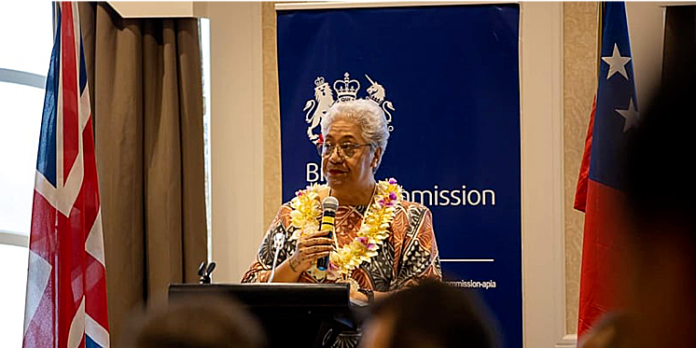 -Samoa remains committed to hosting the next Commonwealth Heads of Government Meeting after Rwanda, says Prime Minister, Fiame Naomi Mata'afa.
Addressing guests at the commemoration of the Commonwealth Day in Apia on Monday, Mata'afa said the country remains committed to being the CHOGM host after Rwanda.
Prime Minister Mataafa then acknowledge the assistance of the Commonwealth to Samoa.
"As a small island developing state member of the Commonwealth, today allows us the opportunity to reflect and highlight how we as the Commonwealth family are innovating, connecting and transforming to help achieve our goals of fighting climate change, promoting good governance and boosting trade," she said.
She then acknowledged with appreciation the United Kingdom's chairmanship of the Commonwealth this year which will come to an end.
"You have kept our ship steady as we waged our way through the turbulence of the pandemic," Mata'afa added.
The UK High Commissioner to Samoa, David Ward said that it was at the Commonwealths Heads of Government meeting in London in 2018, when the United Kingdom's then Foreign Secretary Boris Johnson announced the United Kingdom's intention to open more High Commissions in Commonwealth countries.
"And it was in fact two years later on Commonwealth Day 2020 that this High Commission was formally opened," he said. "Since that day in what have been unexpected times brought on by the COVID pandemic, I and my colleagues around the room here and elsewhere in this region have worked to strengthen the links between our two countries the United Kingdom and Samoa.
"Working together bilaterally and internationally and helped by the welcoming attitude of our Samoan colleagues for which I give them all my gratitude, I hope I can say that relations have never been stronger"
Ward then made reference to the two-day visit of the Royal Navy's HMS Spey which he hopes will promote a safer, greener and more prosperous Commonwealth in Samoa.
"A long time has passed since the last visit of a royal navy ship to Apia until the arrival of HMS Spey in Apia," he said.
SOURCE: SAMOA OBSERVER/PACNEWS