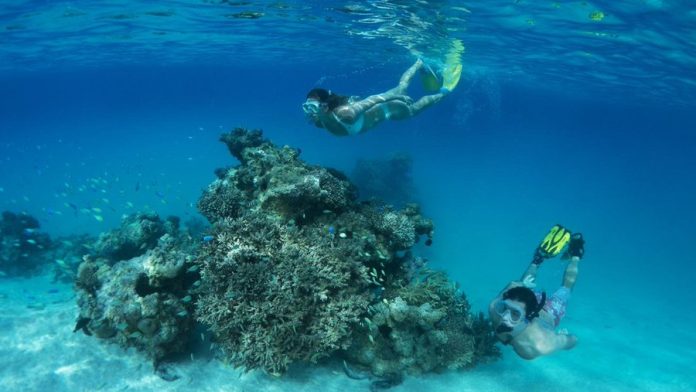 Cook Islands' exclusive access to New Zealand's tourism market is over and the country has to once again compete with the biggest rival in the Pacific.
Just over a week ago New Zealand got rid of its isolation requirements for fully vaccinated New Zealanders, opening the door to Fiji and other destinations that will once again compete for Kiwi tourists.
Owner of The Rarotongan Resort, Tata Crocombe says the quarantine free travel requirement with New Zealand no longer had any benefit.
"We've lost any advantage that we once had," Crocombe said.
"We all need to lift our game in terms of basically marketing, especially the unique competitive advantages of the Cook Islands over Fiji because we're not only in a battle with Fiji, Queensland is open again as well.
"Those major sun destination competitors of ours are all not only open, they're throwing vast amounts of money to win back the New Zealand customers."
However, Crocombe said the Cook Islands should not open to Australia before New Zealand did.
"We have to work in conjunction with New Zealand, New Zealand is still 70 percent of our business pre-pandemic and 100 percent of our backstop in terms of public health.
"As soon as New Zealand is open to Australian visitors we need to that very same day, that very same minute, open to Australian visitors as well and we need to get in place all the necessary regulatory work, so that as soon as New Zealand opens to Australians we're open to Australians as well."
By July, New Zealand will open to all fully vaccinated visa waiver countries which includes Australia, the United Kingdom, the United States of America and 57 other countries.
However, Crocombe said he suspects New Zealand will open to Australia "a lot sooner than what has been publically announced, it might only be weeks away".
Speaking to Cook Islands News, Prime Minister Mark Brown also thinks it could happen sooner.
"I think there's a good possibility that New Zealand will (open sooner), the way Omicron is running through New Zealand now it's pointless to stop Australians coming through," Brown said.
"The basis of that was to stop Omicron coming in and stop its spread, so I think it would be a natural inclination for New Zealand to open up sooner rather than later."
Passengers flying to Fiji need to be fully vaccinated and need to provide a pre-departure rapid antigen test (RAT) or PCR. On the return, New Zealand citizens or residents need to provide a RAT, PCR or loop-mediated isothermal amplification test.
It's a cheaper alternative than Cook Islands' current requirements where tourists need to provide a PCR test to get into the country. With Rako Science – a popular place tourists get pre-departure Covid-19 tests – they cost $250(US$168) per person.
However, PM Brown said on Thursday RATs will also be made available as pre-departure tests which could come into play as early as next week.
Travellers will need to take a RAT 24 hours before their flight and need to do it under supervision to be valid.
"This is in response to the changing situation in New Zealand as they adjust to the increasing Omicron infection rate," Brown said in the Covid-19 update.
"Some of the entry requirements that are in place are now redundant and need changing."
On Friday in an interview with the Cook Islands News, Brown said he thought the change in tests will make it a lot easier for travellers.
"If you have got a family of four that's a thousand bucks in PCR tests, with RAT tests that cost significantly drops down."
Crocombe also said Fiji's national airline, Fiji Airways, had an "overwhelming advantage" over the Cook Islands.
"They've got their own national airline which sets prices, it's the price maker."
He said Fiji's focus was on filling up seats and they could adjust air schedules to do that.
This coming Monday Fiji Airways will commence daily commercial flights between Auckland to Nadi, up to three flights a week from Christchurch and up to two flights a week from Wellington.
A statementfrom Fiji Airways said return flight prices start from $549(US$370) per person. Air New Zealand is also offering deals return to Rarotonga at $549(US$370) per person but $466(US$314) return to Nadi.
Speaking to Cook Islands News, a Fiji Airways spokesperson said there had been a 105 percent increase in website traffic from New Zealanders.
"A number of Fiji Airways' travel partners are also experiencing an increase in Kiwis searching for flights to Fiji," the spokesperson said.
The newspaper asked what the actual flight bookings were like, however, this was not answered.
Karla Eggelton, Cook Islands Tourism's acting chief executive officer, said Fiji being open to New Zealand meant the country had "renewed competition".
"Much the same as we did pre-Covid. It is not just Fiji however; the world is open to people in NZ again.
"We have always had to compete with other destinations and now is no different. We will continue to accentuate the positives of a holiday in the Cook Islands and showcase the unique experiences we offer."
Eggelton said competition from other destinations was just one of the factors challenging the business.
"The current outbreak in NZ is making people hesitant to book, some are having to cancel due to being positive and people are concerned about isolating for 10 days if they catch Covid while they are on holiday. We are hopeful that once the peak passes in NZ, that people will be more comfortable travelling again."
Cook Islands Tourism Industry Council president Liana Scott said "to a certain extent" opportunities were lost the longer it took for the Cook Islands to adapt to the changing situation.
"The Cook Islands tourism industry continues to get cancellations or date amendments, forward bookings for March and April are really starting to slow down, attributed no doubt to the increasing number of positive cases in NZ," said Scott, who is also the general manager of the Muri Beach Club Resort.
"To buckle this trend of uncertainty and anxiety we need to be adaptable and ready to implement change as soon as viable or at least as soon as it makes logical sense to.
"Compared to our fellow island nations, the Cook Islands has had the most success with its vaccination implementation programme, timing planned and deliberate which is reflected in our current nil hospitalisations. This gives confidence to the potential traveller at decision making time."
An Air New Zealand spokesperson said demand was particularly strong in January for Cook Islands flights and there was steady demand over the next couple of months.
"With the April school holidays coming up lots of Kiwi families are booked to travel to catch some Rarotongan sun," the spokesperson said.
"As we did when QFT (Quarantine Free Travel) with the Cook Islands opened back in May 2021, we will continue to monitor demand and adjust the schedule where possible."
Prime Minister Brown is confident tourism will "grow back quickly regardless of competition".
"Our people are very good at what they do in the tourism industry," he said.
SOURCE: COOK ISLANDS NEWS/PACNEWS