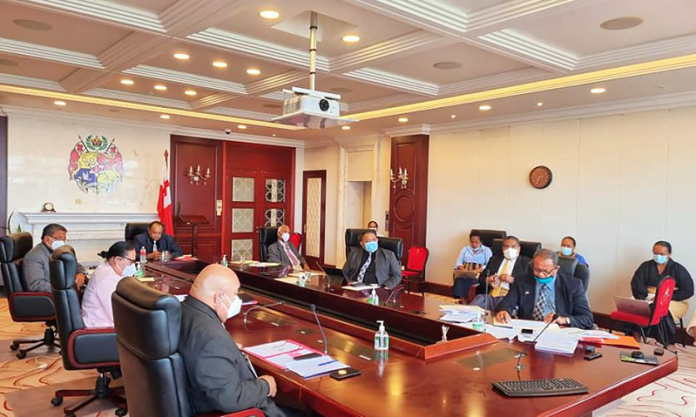 Tongan Prime Minister Hu'akavameiliku Siaosi Sovaleni has confirmed to Tonga's Development Partners that a total of TOP$565.8 million (USD$240 million) is needed to fund the Hunga-Tonga-Hunga-Ha'apai Recovery and Resilience Building Plan 2022-2025.
The plan was recently endorsed by Cabinet and is government's guiding document on the recovery and resilience building plan following the events of 15 January.
Hu'akavameiliku made the statement while speaking at the Development Partners' Forum held in Nuku'alofa on Tuesday.
The Recovery Plan's vision is Recovery with Greater Resilience. This is built on the vision and commitment of His Majesty's Government's to ensure an inclusive recovery and a sustainable recovery process.
The plan places the marginalised and vulnerable communities including women and children at its centre. It is not a one size fits all approach, and also takes into consideration cross cutting issues including gender equality.
"The total amount required to implement the plan is estimated at TOP$565.8million or USD$240million. This is what is needed to build back better and very much so to build our resilience where our marginalised and vulnerable people are at the centre," Hu'akavameiliku said.
The Recovery Plan identifies four key priority sectors namely, Housing Recovery, Food Security and Livelihood, Tourism Industry and Public Infrastructure.
The Prime Minister said first rapid estimate through the GRADE methodology by the World Bank of the direct economic damages to buildings, infrastructure and agriculture estimated damage at TOP $208.3million (US$92.2 million). That is equivalent to 18.5% of Tonga's Gross Domestic Product (GDP).
Government added to it a further assessment of business losses of TOP$65million (US$28.7 million) to the productive, social and infrastructure sectors. The Ministry of Finance estimates this as a loss equivalent to six months of annual GDP.
The Prime Minister also thanked all bilateral and multilateral development partners present at the meeting, the World Bank and Asia Development Bank (ADB), as well as national, regional, and international Non-Government Organisations (NGOs), civil society, church groups and the Tongan diaspora who also joined to provide much needed early relief supplies.
"On behalf of all of us, Government and people of Tonga, I would like to express our appreciation for your quick and timely response during the first recovery phase of humanitarian support," Hu'akavameiliku said.
"The saying is true 'No man is an island.' It is our partnership with you, donors, that is vital to ensure that we progress in rebuilding and move towards a Tonga which provides a quality and sustainable life for all."
Hu'akavameiliku stated that the emergency support Tonga received enabled government to evacuate quickly and safely all of the displaced persons from the Ha'apai group, including Mango, Fonoifua, and Nomuka, the island of 'Atatā, as well as those from the affected areas in the western region of Tongatapu.
Temporary shelter, water, food, and much needed relief items were distributed efficiently to all the affected population.
The emergency support also assisted with the social protection programme where government was able to disburse $500 (US$220) to each family in a household in the affected areas and a $200 (US$88) one off support equivalent to two months stipend to the elderly, and the disabled.
"Your lasting support and assistance will be very much needed to overcome the current recovery phase and sustain us when we can move to building back better for a better future for all," the Prime Minister stated.
Hu'akavameiliku stated that Tonga is one of the most vulnerable in the world, faced with harsh and devastating impacts of natural disasters.
"The catastrophic event of 15 January 2022, when Tonga encountered the Hunga-Tonga-Hunga-Ha'apai volcanic eruption and the devastating Tsunami which followed led to lives and livelihoods lost," he stated.
"Many homes and properties were damaged. Livelihoods continue to be deeply affected and Communications altered.In short, we face a deep and very significant setback to Tonga's development efforts."
He said Tonga's vulnerability to natural hazards is not a statistic but a daily reality lived by every Tongan.
The international agencies have highlighted the need for Tonga to be more resilient and to invest in building back better.
Hu'akavameiliku stated the immediate recovery and rebuilding phase will be guided by three important documents, the Tonga National Strategic Development Framework II, the Government 2022- 2025 Priority Agenda (GPA) and the Hunga-Tonga-Hunga-Ha'apai Recovery and Resilience Building Plan 2022-2025.
Government has prioritised quality infrastructure, resilience design all coupled with appropriate procurement options, with the opportunity to integrate traditional knowledge into our structures and plans.
SOURCE: TONGA GOVT/PACNEWS