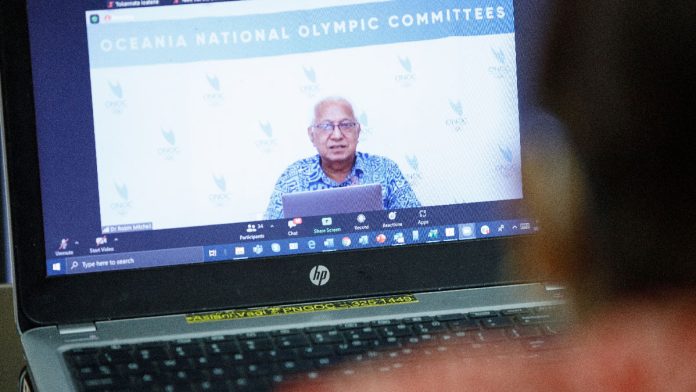 Sport in the Pacific Islands is to benefit from preemptive moves by an Oceania-stakeholder Working Group's evolving architecture leading to the BRISBANE 2032 Olympic Games to benefit trainers, coaches, specialists, and athletes in the islands – but with an emphasis on Pacific islanders for Pacific islanders.
In opening remarks to the hybrid online and in-person ONOC Secretaries-General Workshop in Guam, ONOC President Robin Mitchell, linked good governance and leadership in sport to improved National Olympic Committees' (NOCs) ability to serve athletes and gain podium finishes.
Mitchell said, "The theme of 'Enabling effective leadership in Oceania' with a focus on good governance, the workshop is important in leading to improved performance by NOCs.
Acknowledging the reality of delivering sport during an ongoing pandemic, Mitchell pointed to the importance of continued focus on long-term goals to guide immediate to medium-term concerns.
Reflecting on lessons learned from the SYDNEY 2000 Olympics, Mitchell said while Pacific Island athletes had opportunities for preparation and increased participation, the Pacific islands did not do well because the approach was not suited to "our athletes" – hence the new focus on developing Pacific Islands local expertise to reduce reliance on external non-Pacific Islands experts.
Mitchell said, "BRISBANE 2032 presents us another opportunity to improve athlete performances in our island countries – we have a lineup of qualifiers leading to PARIS 2024 in two years before we move into the LOS ANGELES 2028 phase before we host the Summer Games in Brisbane.
"Our Working Group of Oceania stakeholders includes the Organisation of Sports Federations of Oceania, Oceania Paralympics, Oceania Australia Foundation, Australia Paralympics, and the Australian Olympic Committee.
"This workshop covering good governance and underscoring the importance of finance, sport education and sport development leads to our ability to improve athlete performance
"We have only two years before the next Olympiad begins in 2025 after PARIS 2024 is over and our National Olympic Committees need to improve their use of available funding through the Olympic Solidarity Programme.
Mitchell said, "We've been providing all the tools, but members need to make full use of it – our flagship programme, the Oceania Sport Education Programme or OSEP is delivering courses but there are variances in delivery throughout the region.
"OSEP is important for NOCs because its concept allows members to develop local expertise which can lead to less dependence on external experts.
"This is important for us to address because when external experts come in, they reflect a bias that does not always apply to the Pacific islands – OSEP allows you to have experts that know you, understand you, and can speak your language."
Mitchell said that he was sharing the 10-year rollout and the work behind it because the work in sport runs with a dual emphasis on improving governance, management of funds, partnerships, reporting and credibility, and athlete performance as our communities continue to judge sport organisations by results in competition."
In this regard, "Good governance will lead to our members accessing and managing well the resources allocated them on behalf of national federations and athletes, but this runs with the overall focus on our athletes' improving qualifications on merit and ultimately leading to more medals being won."
Mitchell also said, "While COVID-19 public health measures affect the way we deliver sport, it is important we start early with preparations through creative approaches so that sport development continues but all members need to assess their national situation.
"This workshop helps toward that end as members' focus on reflection and planning."
Mitchell also extended gratitude to all members for their hard work in the last quadrennium from 2017 – 2020 with the one-year postponement of TOKYO 2020 to last year, and for rising to the challenge of this new Olympic cycle leading to the Paris Summer Olympics.
SOURCE: ONOC MEDIA/PACNEWS