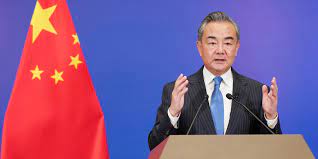 China is always a trustworthy friend for South Pacific countries, State Councillor and Foreign Minister Wang Yi said Monday.
China is willing to work with South Pacific countries to set a new example of mutual support, solidarity and cooperation between countries of different sizes and with different systems, Wang said.
Noting that China has helped Tonga when it faced volcano eruptions, supported Solomon Islands in its efforts to restore social order, and sent vaccines and medical equipment to South Pacific countries to fight COVID-19, Wang said China is willing to work with South Pacific countries to help each other when facing challenges together.
China will continue to provide economic and technical aid to South Pacific countries without any political strings attached, he said.
The China-Pacific Island Countries Reserve of Emergency Supplies has been put into operation, and a cooperation centre on climate change and a cooperation centre for poverty reduction and development will soon be completed, Wang added.
Meanwhile, Ambassador for the People's Republic of China (PRC) Wang Xiaolong is in Rarotonga this week to present his letters of credence and talk future co-operation with the Cook Islands.
July this year will mark 25 years' diplomatic relations between the two countries and government officials of both countries are expected to work closely together over the next couple of weeks to chart a forward bilateral co-operation agenda to guide joint efforts over the next three or so years to support the Cook Islands and the PRC shared and separate development aspirations.
"We're pleased Ambassador Wang has been able to visit so soon after the resumption of international arrivals from New Zealand and expect to hold wide-ranging discussions this week including on forward bilateral co-operation; regional affairs and greater people to people links," said Secretary Herrmann.
A career diplomat, Ambassador Wang is resident in Wellington and cross-credited to New Zealand, Niue and the Cook Islands. Ambassador Wang comes into the Ambassador to the Cook Islands role having previously served as Director-General of the Chinese Foreign Ministry's Department of International Economic Affairs and has served in China's Foreign Ministry as Special Envoy for the PRC on G20 affairs, Ambassador to Mongolia and Singapore.
Ambassador Wang met with Secretary Herrmann as part of a five-day visit programme that includes engagements with Prime Minister and Foreign Minister Mark Brown and senior government officials.
"The cornerstone of PRC and Cook Islands co-operation of the last 25 years has been a commitment to partnership, no matter size or might and an abiding respect for self-determination of one's own development path," said Secretary Herrmann.
"In 1997, we were economically bankrupt, confronted with an exodus of Cook Islanders and unable to raise international finance for our development aspirations. Those are the circumstance under which the PRC established diplomatic relations with the Cook Islands and the beginning of what has come to be a mature and valued bilateral partnership for the Cook Islands. As we reflect on 25 years of co-operation there is much to be proud of – the grants and concessional loan facilities availed by the PRC has seen the completion of pivotal public infrastructure since, namely – the Courthouse, Police Headquarters, the Ministry of Education, the multisports complex in Nikao and the Apii Nikao rebuild. Beyond physical infrastructure, China's support for our various efforts to speak with our own voice and advocate for our national interests on the Monday, 07 March 2022 international stage including expansion of our diplomatic partners has been invaluable in supporting the economic and social development of the Cook Islands over the last two decades."
Talks this week are expected to cover discussions on the Cook Islands Economic Recovery Roadmap; China's Belt and Road Initiative and likely forward bilateral co-operation; regional affairs and greater people to people links. The two governments are intending to mark the 25-yearanniversary in July with a program of engagements to showcase past co-operation and articulate a forward cooperation agenda.
On a day to day basis, Ambassador Wang and his staff interact with the Cook Islands through the Cook Islands High Commission in Wellington headed by High Commissioner Elizabeth Wright-Koteka.
SOURCE: XINHUA/COOK ISLANDS GOVT/PACNEWS