The Pacific Islands Forum and the Pacific Catastrophe Risk Insurance Company (PCRIC) have confirmed a new partnership which includes the placement of a Forum PCRIC Regional Coordinator to provide advice and capacity building to Pacific Island Countries.
In a virtual meeting held this week, the PIFS Deputy Secretary General, Dr Filimon Manoni and PCRIC Chief Executive Officer, Aholotu Palu, reaffirmed their commitment to the partnership aimed at helping Pacific nations to increase planning and preparedness against disasters.
"In these uncertain times with many disasters happening in the region, we need to look at innovative ways to support our members," said Dr Manoni.
"Our region needs urgent assistance, and we are building partnerships to pull together much needed resources to support our people and communities in the region. This is a priority for all of us, no matter which organisation or entity we belong to. So, this is a great example of a meaningful, effective collaboration," he said.
Dr Manoni congratulated Akosita Drova, the PIF-PCRIC Regional Coordinator and welcomed her to the PIFS family. Drova is a Fiji national and has been the World Bank's local Disaster Risk Finance expert at their Fiji Office. She was a former Deputy Secretary in Fiji's Ministry of Finance where she served for more than 20 years.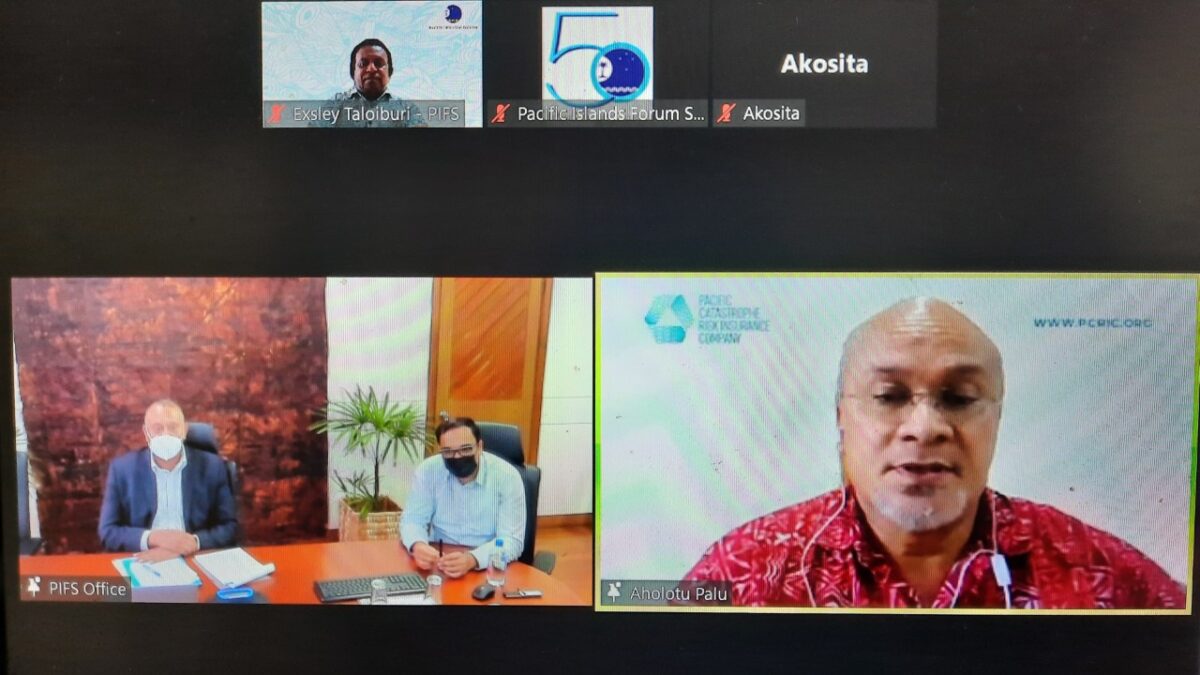 The Regional Coordinator will support the Forum Secretariat's inhouse advisory services and technical assistance to Members on Disaster Risk Finance and risk pooling issues.
CEO Palu emphasised the importance of this collaboration, formalised by a Memorandum of Understanding last November and believes both organisations will see tangible outcomes through the activities covered by the Regional Coordinator's role.
"We want to start by trying to enhance the political visibility of the company in the region by endeavoring to integrate PCRIC in the regional coordination architectures on Disaster Risk Finance and Insurance in line with the decision of the Forum Economic Ministers Meeting (FEMM) last year. We are very happy with the outcome of our request to become an observer at the FEMM, and this is an example of fulfilling our commitment to Forum Members," Palu added.
At their meeting in 2021, Forum Economic Ministers endorsed the Forum Secretariat's coordination role on Disaster Risk Financing and also admitted PCRIC as an Observer to the FEMM. This partnership will enable the PIFS Resilience team to advance its Disaster Risk Financing work, linked to the Pacific Resilience Partnership Technical Working Group on DRF.
SOURCE: PIFS/ PACNEWS