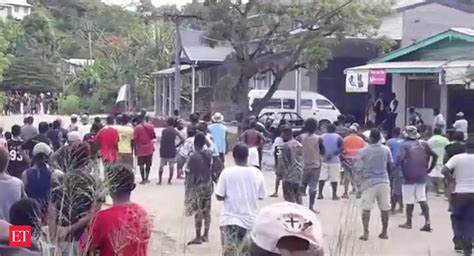 After days of violent protests, Solomon Islands' capital city Honiara is calm for now, but only after dozens of businesses were burnt to the ground, and many others were looted.
There are fears of further violence when a motion of no confidence in Prime Minister, Manasseh Sogavare, is put to the vote next week, and as result key political figures have already offered their services as mediators, including the Premier of Guadalcanal Province, Francis Sade.
"We have seen the damage that has been done to Honiara, the properties and the businesses. That's cost a lot of money and that is not something that is good for this country and the economy, so the need to bring them to the table for dialogue is urgent, because we need both sides – Malaita and the Government – to be clear on their position with regards to the ongoing impasse," said Premier Sade.
A retired senior public servant, Ethel Sigimanu, is a foundation member of the new Malaita Women Leaders and Mothers' Dialogue, and she agreed that it's through negotiation that a lasting peace can be achieved.
"We are concerned about our security as anybody would be in such a situation. We are not proud of what's happened. We do not condone the violence, or the riots, but we believe there's a way out and that is possible through dialogue with the parties concerned."
As a result of the violence, hundreds of people are homeless, and Sigimanu has said that getting enough for food for the family is proving to be tough for many.
"It's very difficult because in an urban situation, we depend on the shops for our survival. There is that option of buying food from the market, where local farmers bring in their produce to sell, but that is also affected, because movements within town and to the market now are problematic and limited."
It's anticipated that it will be a long time before some businesses return, if they do. Many business owners, especially those in Chinatown lived on the premises, and Clement Manuri from Solomon Islands Red Cross has said many are bunkering down together in crowded temporary accommodation.
"They are living with their friends but this is seen as only for a short term measure, we're looking at a longer term. Information will be shared with the government for their planning. If the assessment is that food is problem, the livelihood committee will be looking at distributing food," he said.
SOURCE: ABC/PACNEWS