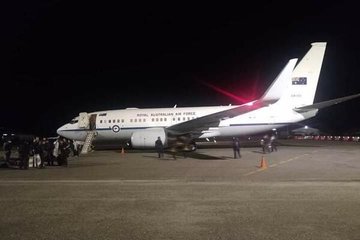 Australian Federal Police (AFP) officers have touched down in Honiara, the first of a series of deployments coming in from Australia to help maintain peace and security in Honiara.
The first group consists of 23 members of the AFP's Specialist Response Group. Another 50 AFP officers will be deployed to support critical infrastructure tomorrow, as well as 43 Defence Force personnel from Army units based in Townsville.
Prime Minister Manasseh Sogavare requested Australia's help under a security treaty the country signed with Australia in 2017.
The former high commissioner to Solomon Islands, James Batley, says that given the Solomon Islands had initiated the request under the treaty, Australia was obliged to intervene.
"It was definitely the right thing to have done, but it was really the only choice," he told the ABC.
"The benefit of the treaty is that it really clears away all the legal requirements that would have to be gone through if we were doing this from scratch. So it really accelerates the extent to which Australia is able to respond."
For the past two days protestors have burned and looted shops in Honiara despite a 36 hour lockdown order issued by Prime Minister Manasseh Sogavare.
SOURCE: SOLOMON TIMES ONLINE/PACNEWS