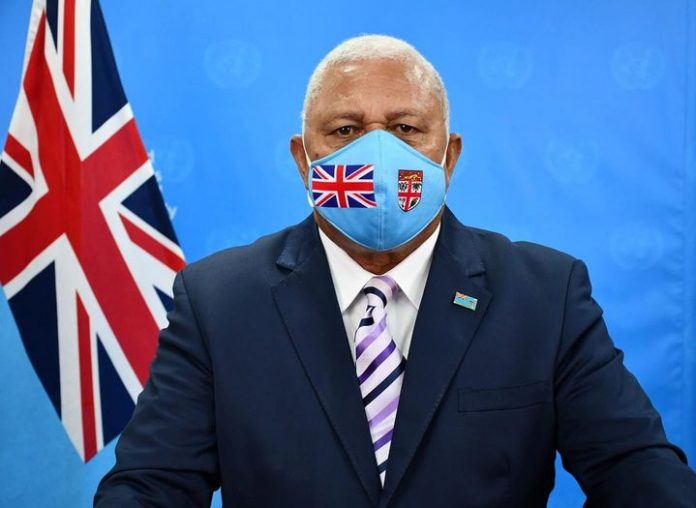 Opinion by Frank Bainimarama, Prime Minister of Fiji
The upcoming COP26 UN summit in Glasgow must secure serious collective action to address the climate crisis. Failure could spell the loss of entire low-lying Pacific nations, and we can only fail if we shirk our responsibilities.
We have reasons to be hopeful. Momentum for action is growing. Since the Fijian presidency of COP23 in 2017, more than 100 countries have pledged to achieve net zero emissions by 2050, and many wealthy nations have strengthened their Paris targets for reducing greenhouse gas emissions by 2030.
That is the good news. The bad news is that these pledges are still insufficient. All countries – particularly the developed countries and the largest emitters – need to commit to reducing greenhouse gas emissions by more than the current target of 50 percent by 2030, and they must commit to achieving net zero status before 2050.
All targets need to be strengthened and all timetables need to be advanced.
The latest UN synthesis report indicates that we are headed for 2.7 degrees of warming in this century, well above the Paris Agreement's threshold of 1.5 degrees.
In August, the Intergovernmental Panel on Climate Change set out the latest science, which made it clear that we are headed for a cataclysmic future of rising seas, super-storms, changing rainfall patterns and ocean acidification. The future of planet Earth, the only home we have, is in serious jeopardy.
Pacific Island countries have warned for decades of the existential threat posed by climate change, but the threat is not restricted to isolated villages or low-lying islands. All Pacific Island nations, including Australia, are threatened by the climate crisis.
Indeed, we are already experiencing the devastating consequences of climate change. The wolf is not at the door any more; it is in the house.
In the five years since the Paris climate talks, my country has been struck by a record-shattering streak of severe weather, including two category-five storms, Cyclone Winston in 2016 and Cyclone Yasa in 2020. Unprecedented in their strength, these storms obliterated entire communities and left thousands of homes damaged or destroyed.
Australia, too, has suffered unprecedented hardship and destruction. The Great Barrier Reef has been hit by three mass-bleaching events in the past five years, and Australia experienced its hottest and driest year on record in 2019, when it suffered a Black Summer of catastrophic bushfires.
Australia a natural partner
It's hard to ask for a more natural partner for Fiji than Australia. Australia's open hand of solidarity has lifted Fijians to their feet in the darkest of times, with cyclone relief, with resources and expertise, and most recently with life-saving COVID-19 vaccines.
Now, we must all play our part in the collective effort to head off the climate crisis. Fiji is prepared to do this. In September, we passed a groundbreaking and comprehensive Climate Change Act, legislation that makes action to address the climate emergency an integral component of the duties and processes of government.
It also requires the private sector to disclose information on climate change risks, establishes national carbon budgets, and codifies our 2050 net zero carbon emissions target in domestic law.
Today, we urge others to follow our example, and we earnestly urge our friends in Australia to be champions of climate action at Glasgow and beyond.
In that light, I welcome commitments from all of Australia's state and territory governments. An especially welcome example was set by the NSW government with the announcement of an ambitious new commitment to halve emissions by 2030.
The fight against climate change is a fight for survival, for all of us. The time has come to take our shared struggle seriously.
When leaders gather in Glasgow at COP26, they should be prepared to spell out immediate and transformative actions that are achievable.
Come with new commitments for serious cuts in emissions by 2030 – 50 percent or more. Come with commitments to reach net zero before 2050.
Do not come with excuses. That time is past.
SOURCE: AUSTRALIAN FINANCIAL REVIEW/PACNEWS