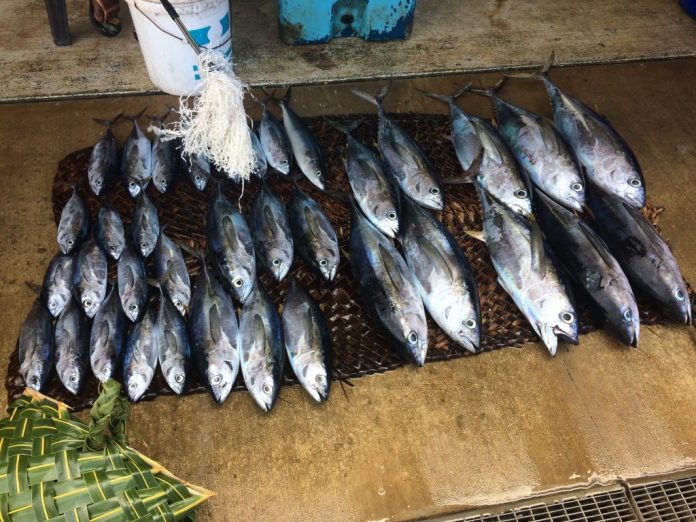 By Ronald Toito'ona
The dual impacts of over-fishing and climate change appear to have resulted in the depletion of fish stocks on various common fishing grounds used by local fishermen from Titiana village, in the Western province of Solomon Islands.
Titiana is a coastal community of Micronesian decent, situated at the southern shore about 2 miles west of Gizo, the province's capital town.
In response to poor catches, villagers are now looking more at revisiting their old fishing methods to ensure that their fish and marine resources are sustainably managed.
As populations have grown, fishing in nearshore and coastal waters has, in some areas, lead to depleted resources and changes in fishing practices.
Common fishing grounds are no longer as rich in fish stocks, and fishing communities find it more difficult to cope with reduced catches that take more time and effort. This is increasingly an everyday challenge for many communities in the Solomon Islands.
With the daily challenges of trying to meet their demands for fish to eat, the local fishers of Titiana have now started to take sustainable fishing practices seriously as they begin to respond to concerns that their community's main food source is on the brink of collapse.
Wesley Misu, 27, is a fisherman from the Titiana Community. In a recent interview, Misu said sustainable fishing was not a question of concern for many years. But now, communities are seeing the importance of fishing to their livelihood as they respond to declining catches despite their increased efforts.
With the complications surrounding the increase in over-fishing at the Titiana community, the fishermen are now eager to understand how sustainable fishing works.
The experience: depleting fishing grounds and over-harvesting
For the past 20 years, Misu joined his relatives and friends on fishing trips, and has seen and experienced the changes brought about by over-harvesting of fish stocks.
During an interview at the Gizo Fish Market, Misu said it is much more difficult than 20 years ago as people have to go out very far to fish and sometimes come back home with only few fish. At times, their catches are not enough to feed their families or to be sold for little income at the market.
"In recent years, fishers would return home with less than 20 fish. This is different from the experience of the early 2000s, where we usually travel out fishing and return with a boatload of fish or tuna.
"I believe that, before, good catches were a result of careful harvesting of fish stocks in our common fishing grounds, using the traditional fishing techniques and also with the use of right fishing gear which also contributes to sustainable fishing," said Misu.
Another challenge that the young fisher said he is experiencing now is the impact of climate change on the movements of fish stocks from their common fishing grounds.
Misu said sometimes when he goes out to fish, he returns with nothing at all.
"Maybe this is caused by the rising tides or how the tides are changing each day."
In spite of all the challenges Misu and the fishermen from Titiana are facing today, they never give up exploring the reefs and deep seas to fish.
They said they see a lot of potential in fishing because it benefits their families over the passing years.
"Fishing has always benefited us in all aspects of life. I would be unemployed or broke it wasn't for fishing—or if there is no ocean, we wouldn't fish.
"Therefore, we have to keep our ocean and fish in sustainable ways so that our future generations can enjoy eating from our sea resources like now," Misu and the group of fishermen explained.
Another issue raised by the fishers as a contributing factor to the depleting fishing grounds was the use of small gillnets to fish in the reefs and near Fish Aggregating Devices (FADs). With the small sized gillnets, it is common knowledge there is a possibility that most unwanted fish species and other marine lives will be caught as bycatch.
"That said, people need to have a clear understanding of the fish population and the extinctions of other fish and marine species, and also choose carefully which type of fishing method they can use," the fishers stated.
Apart from the accounts of the Titiana fishers, the fishing community of Gizo also reported that people are using all kind of fishing methods, especially in the technological age. In doing so, they are contributing to the over-harvesting of some endangered fish and marine species.
This does not only affect the fish, but also the reef's ecosystem.
Besides, almost every day people went out to the sea to fish, so they are well versed with the behavior of the fish and the locations of the fishing grounds. This makes it difficult for them to fish at the same spot because of the repetition of harvesting on the same fishing ground every day.
Finding the solution to create a local, sustainable fishery
In various coastal villages around Solomon Islands, traditional ways of fishing using throwing or shooting devices (spears, bow and arrow, throw nets, spear-guns) or passive devices (fish-traps, gillnets, fish-pens) were used in the past.
For the Titiana fishing community, the Kura fishing method began long ago, especially since the mid-1950s when the first settlers of the community migrated from Kiribati, between the 1950s and the early 70s while Solomon Islands was a British protectorate.
Others have also stated that Kura is a local name for deep-sea fishing, with lure hooks and a white plastic shank, that has been done for several years. This method is said to have been introduced by Filipino (Philippines) fishers.
The Kura fishing technique is an old-fashioned way of fishing which Misu and other fishermen from his village have been recently trialing to see if it can contribute to sustainable fishing.
Misu explains how the Kura fishing works.
"I first went on a Kura fishing trip two decades ago when I was a kid. Back then, I used to go out on fishing trips with my uncle or sometimes with my friends.
"This method (Kura) is a very easy way to fish because you use coconut leaves attached to a rock and drop your bait to the bottom of the ocean to attract the fish.
"After dropping the fishing line, you will just wait to pull the tuna or fish when you feel that it bites the bait," Misu explains.
Kura is a simple fishing technique, but the size of the fishing line and hook determines one's catch.
Another old fishing method is toe-line fishing. According to Misu, this type of method is less dangerous for juvenile fish because one can only catch normal sized fish.
Interestingly, both the Kura and toe-line fishing can also be used in offshore and inshore fishing. These methods are also used to catch tuna near deep-sea FADs.
Realising the importance of FADs for a sustainable fishery
As fishing is the only means of income generating activity for the Titiana coastal community, the use of FADs is seen as a crucial way to manage fish population.
"The people here are heavily dependent on our sea resources. This is due to our ocean fishing skills, and our lack of land and expertise for gardening – the other main food and livelihood option in rural Solomon Islands," Misu said.
It was also reported that offshore fishing can be dangerous for Titiana fishers, due to the fact that the industrial FADs are located in oceanic waters to the south of Gizo, with fishers operating small outboard motor-powered canoes to access these FADs between 20 km and 70 km offshore. If the weather gets rough it can be dangerous, and it is also very expensive for the fuel to travel so far offshore.
"We used to travel far to fish for tuna at the industrial FADs.
"But it can be costly, especially if we went out on a trip and the catch was limited. This means making a loss, as we need to cover the cost of fuel and other expenses incurred on that single trip," the fishermen explained.
However, the fishers are also aware that fishing FADs offshore is one way to manage fish population and to protect the reefs and its ecosystem from over-harvesting.
This is essential for reefs to avoid over exploitation. This way, fisherman and communities will preserve the reefs to fish for a longer time.
"The idea is basically to have more coastal and nearshore locally made FADs to attract fish after a period of time. After the FADs are launched, no one is allowed to fish at the FADs until it open for community harvest.
"That way, fish stocks in the common fishing areas will be healthy and sustainable in the long run," the Titiana fishers said.
They also encourage local fishermen around Solomon Islands and the Pacific region to practice sustainable fishing. The group of fishers stated that every fisher needs to understand how to fish properly in their respective fishing grounds. Only in this way will they have a sustainable population of fish in the ocean, from the deep to the seashores.
SOURCE: TUNA PACIFIC/PACNEWS