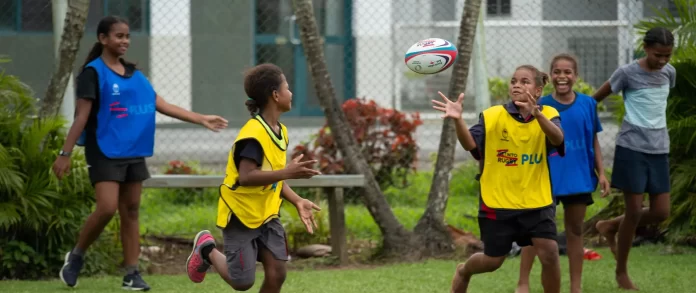 ChildFund Rugby's partnership with World Rugby in the build-up to and during Rugby World Cup 2019 in Japan created an outstanding legacy for the region where thousands more Asian girls and women are active in the sport in a safer and more inclusive environment.
Nearly 35,000 players have been registered with the Pass it Back programme, which is designed to ensure vulnerable children are equipped to overcome challenges through the kinship of rugby, and over half of those are female participants.
Meanwhile, ChildFund Rugby's Reconnect initiative continues to play a vital role in improving access to sport and the learning opportunities and the multitude of benefits it brings as the world continues to struggle with the effects of the global COVID-19 pandemic. Again, the majority of those involved are girls and women.
As principal charity partner for Rugby World Cup 2021, playing in 2022, the rugby arm of the international development agency is now striving to make a similarly positive impact in the Oceania region, where gender inequality and violence against women and children are two ongoing issues that they plan to help address through the delivery of carefully constructed, measurable and collaborative programmes in partnership with Oceania Rugby.
"We are really excited looking forward to Rugby World Cup 2021, to be played next year in New Zealand, at how we can replicate that success (in Asia) but focusing on the Oceania region," said Chris Mastaglio, a former Lao rugby international and one of the main driving forces behind ChildFund Rugby.
"The key issues we will be looking to pick up are issues around gender equality and some of the challenges around violence towards girls and women in the Oceania region.
"Our partners really want to leverage the power of rugby to take on this critical social issue."
Promoting positive behaviour
The impact of a partnership between ChildFund Rugby, Oceania Rugby, the governing body for rugby in the region, Fiji Rugby Union, UN Women and the Australian Government's Team Up, is already being felt in Fiji, through Get into Rugby PLUS, an adaptation of World Rugby's mass participation programme.
Get into Rugby PLUS commenced in Fiji in 2018 with 20 coaches reaching over 300 girls and boys. In 2020, over 500 players benefitted under the leadership of 32 trained coaches. The programme continues to expand and strengthen.
Adapted for the Pacific, Get into Rugby PLUS embeds life skills learning with rugby union to promote positive behaviour, for the betterment of the individual participants and the wider community.
"We worked with Oceania Rugby on creating the curriculum and trained the first group of coaches and trainers on this particular methodology and the programme," Pinney adds.
ChildFund Rugby's Sport for Development Programs and Partnerships Manager for Oceania, Caroline Pinney, says the impact of Fijiana's bronze medal win at the Tokyo Olympics was immediate.
"Apparently, there were parents contacting Fiji Rugby Union immediately after the Olympics to get their daughters enrolled in rugby programmes, which is extraordinary to see in a country where rugby is still a male-dominated sport," she reveals.
Clear and defined pathways in rugby and a safe environment when girls get there are key to capitalising on the interest that the "Olympic effect" can generate. Such collaborative partnerships have helped the Fiji Rugby Union put important elements in place to capture that interest and convert it into increased participation and retention figures.
Samoa's version of Get into Rugby PLUS has just got off the ground and it is hoped this can be rolled out to other countries in the region.
"Our focus is on working with the national Rugby Unions. We don't deliver the programmes ourselves, but we work with them on developing some curriculum products that are built around World Rugby's Get into Rugby programme," comments Mastaglio.
"We have built into that some learning around life skills that are particularly relevant to the issues around gender equality and ending violence towards women and children. And we are working with the national governing bodies on building their safeguarding practices and policies.
"Oceania Rugby have further developed their own safeguarding policy and practices and are now supporting the national unions to allow them to contextualise safeguarding in each of their countries."
Life-changing experiences in Laos
While Fiji is an example of what can be done with the right partnerships and programmes in place, you only need to look to the southeast Asian country of Laos to see rugby's capacity to be life-changing.
Rugby was unheard of in the mountainous country traversed by the Mekong river until it was one of four sports ChildFund introduced to children in partnership with the Lao Rugby Federation, who were, no doubt, initially perplexed by the oval-shaped object they had in their hands.
Mastaglio, who has lived and worked in Laos for the last 18 years, explains how the Lao Rugby Federation picked up the ball and ran with it.
"Four different sports – Volleyball, Soccer, Ratanball (a version of Volleyball but with feet) and Rugby – were introduced to five villages in northern Laos," he explains.
"At that time, the way we delivered the rugby component was in partnership with the Lao Rugby Federation and that added a whole level of quality to the sport's experience for the kids participating in that project.
"In the other sports, it was generally older male teachers who knew about the sport but didn't know how to coach it so it wasn't as enjoyable. And the Lao Rugby Federation has actually been really strong in providing an equal number of female coaches to the project, so there was a natural attraction for girls to go and play the sport because there were female coaches, and it really kicked on from there."
The personal journey of Lao Khang shows what is possible when presented with the right direction and opportunities.
Raised in a small village in Nonghet District in the rural north of Laos, Khang had to finish school in her early teenage years to tend to the family farm and look after her sick father.
But in 2012, aged 20, her life was transformed when she was introduced to the world of sport through sport for development activities delivered by the Lao Rugby Federation in partnership with ChildFund. She took part in the first pilot of what was to eventually become Pass It Back.
Two years later, Khang was representing the Lao national women's team at international tournaments in Thailand, Hong Kong, South Korea and Singapore including the 2014 Asian Games and the 2015 Southeast Asian Games.
For someone whose boundaries had previously been so small, that was quite something.
"As a girl, I was always very shy. Now I am a brave and confident young woman," she says.
"Before I began playing rugby, I only knew people in my small village. Now I have friends all around the world.
Khang is also a World Rugby coach educator and now helps lead World Rugby courses in Laos as well as helping with coaching courses in Vietnam.
In 2018, Lao Khang was named by the BBC as one of its 100 most influential and inspirational women from around the world, chosen for their impact on their communities.
She remains a firm believer in the power of sport to change lives, especially children in developing communities.
"Rugby is an exciting way to educate children. When we play games, we teach children about things such as the importance of hand-washing, manners and respect for elders and friendship."
And she is determined to see others benefit in the same way she has: "I want to help involve as many Lao girls and women from rural and remote communities as possible in rugby so they too can feel brave and strong."
The power of partnerships
Khang is by no means on her own.
"We have a lot of players who complete our programme and move on into coaching, in a leadership position, and that's what parents like to see," Mastaglio points out.
"When you are talking around rugby values of respect, integrity and discipline, every parent wants their kid to show these values when they are at home, school and work, and those values are a really unifying thing that rugby has."
Pinney adds: "It is obviously growing the game of rugby too, and growing the positive reputation of rugby. Families see there is more to it than just playing the sport."
Rugby is a game based on partnerships – whether you are a prop lifting a lineout jumper or two half-backs working in tandem – and Mastaglio can't wait to see what benefits ChildFund Rugby's status as the first-ever principal charity sponsor for a women's Rugby World Cup can bring.
"The opportunity to work with the team executing this event to get more girls and women in this sport and benefit from it in a really structured way, is really exciting. Hats off to World Rugby for doing that," he says.
"Together with World Rugby, we believe in the power of girls playing sport. On the International Day of the Girl Child, we celebrate all the girls in the world playing sport. We are really confident that the partnership is going to deliver some really positive outcomes among girls in the Oceania region as well as, of course, in the host country New Zealand."
SOURCE: WORLD RUGBY/PACNEWS