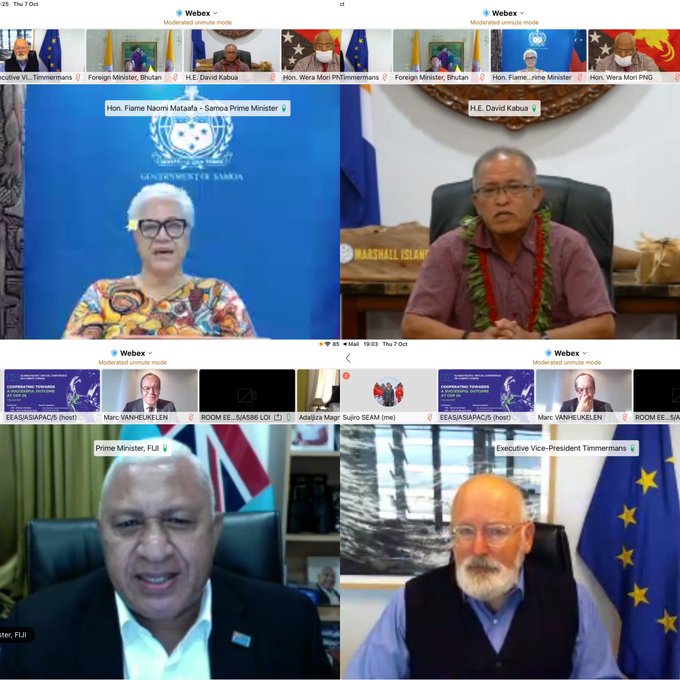 Fijian Prime Minister Voreqe Bainimarama, the President of the Marshall Islands David Kabua and the Prime Minister of Samoa Fiamē Naomi Mata'afa exchanged views with the European Union executive Vice-President in a virtual public conference.
Representatives from the governments of Timor-Leste, Papua-New Guinea and Bhutan also contributed to the discussion.
The aim of the conference between the EU and Indo-Pacific states was to discuss the political outcomes for COP 26 with a view to enhancing cooperation on achieving the highest possible climate ambition. The conference was one of the first events to implement the EU's new strategy for cooperation in the Indo-Pacific.
Executive Vice-President Frans Timmermans said: We cannot afford to wait any longer for ambitious global action on the climate crisis. It is imperative that the world makes changes now. If we are to keep the 1.5°C objective in sight, all Parties, and in particular the G20 economies, must set a date for carbon neutrality and deliver it with steep emission reductions in the coming decade through enhanced nationally determined contributions (NDCs). Scaling up international finance for adaptation efforts is likewise essential to closing the gap. A tremendous amount of effort lies ahead of us – let's get to work.
Preparations for COP 26 are advancing, and in this final stretch it is vital that all players create the right conditions for a successful outcome to the conference. The EU and the Indo-Pacific are joining their voices to call for enhanced global ambition in line with the latest available science. This means calling on all Parties, particularly the major emitters who have not done so, to enhance their NDCs and submit net-zero strategies to keep 1.5°C within reach..
Parties should also come forward, as soon as possible, with their adaptation communications. It is crucial that all parties not only increase their ambition on mitigating climate change, but also enhance their climate resilience.
The EU remains fully committed to a sustained and increased investment in building resilience and enhancing adaptation in the most disaster-prone countries, and in the regions with the lowest capacity to respond, as well as encouraging the development of build-back-better strategies for recovery after disaster.
The voices of the Indo-Pacific region are of highest relevance in the final weeks before COP 26. Combining our efforts will help us leave Glasgow with a renewed sense of commitment to take urgent concrete action to achieve the Paris goals.
SOURCE: EUROPEAN COMMISSION/PACNEWS