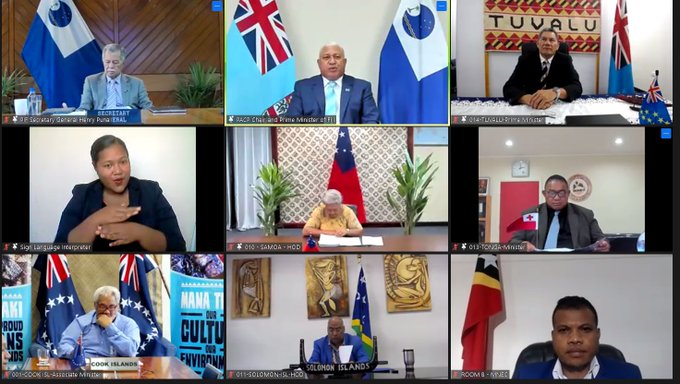 Fijian Prime Minister and Forum Chair Voreqe Bainimarama has reaffirmed a 1.5-degree world will safeguard the region's sustainable future.
Speaking at the Pacific -ACP Leaders Meeting today, Bainimarama said the Pacific should demand this at COP26 in Glasgow.
"As Pacific ACP States we are now on the frontlines of the climate crisis and only a 1.5-degree world will safeguard our region's sustainable future.
"We must reaffirm this, and indeed demand this, at COP 26 in Glasgow next month. It is our collective responsibility. Today, we have the opportunity to deliberate on this and I look forward to our discussions.
"It is a challenging road ahead, but I remain hopeful and confident that we can overcome our challenges with unity and ambitious collective action," said Bainimarama.
As Pacific ACP States we are now at a juncture where we are considering how best to organise as Pacific ACP States, taking into account the new OACPS-EU Partnership Agreement – which we look forward to signing in Samoa in 2022, he said.
"There is no doubt that the Pacific ACP States is an important grouping – not just for our engagement with the European Union and with fellow African and Caribbean States, but more broadly also.
"This platform can be an opportunity for Pacific developing states to work together to discuss and develop solutions to overcome common development challenges towards a sustainable future for our people. And indeed, there is room for this comprehensive discussion within the ambit of the imminent work on the Review of the regional architecture," said Bainimarama.
He said the region is faced with a set of extraordinary circumstances which are now amplifying their existing vulnerabilities and challenges – the COVID-19 pandemic and its related economic challenges, an intensifying climate crisis and the ongoing geopolitical tussle on the rim of the Pacific region.
"To combat such challenges, we must work together and forge our own development future. We must ensure that our engagement with all our international partners responds to our collective vision and priorities for our Blue Pacific.
"We last met as Pacific ACP Leaders in Tuvalu in August 2019 amid the Post Cotonou Negotiations. Today we will consider the outcome of those negotiations and discuss its implications on our engagement with the European Union over the next 20 years.
"I acknowledge our Ministers, senior officials and our Ambassadors in Brussels who have worked tirelessly to finalise a new Agreement that is reflective of our Pacific priorities, in particular, climate change and resilience, and Oceans, seas, and fisheries.
"Just as crucial, is how we move forward collectively to implement this new agreement.
"We must ensure that the implementing modalities that we confirm are complementary of our existing national and regional mechanisms. By the same tenor, there must always be an opportunity for our voice to be heard in these discussions and decisions because it is our future and that of our people who will be impacted the most," said PM Bainimarama.
Meanwhile, Tuvaluan Prime Minister Kausea Natano also participated in the Pacific ACP Leaders Meeting.
During the meeting, Prime Minister Natano raised Tuvalu's candidate for the position of Secretary General to the Commonwealth of Nations, Sir Iakoba Taeia Italeli, and Tuvalu's new joint communiques for establishing diplomatic relations, which seek to protect Tuvalu's statehood and maritime boundaries in the face of climate change.
Prime Minister's interventions were warmly received and thanked Pacific nations for their consideration and encouragement of Tuvalu's initiatives.
SOURCE: PACNEWS